As an avid camper, I wanted to share my review of the Ozark Trail 6 Person Instant Cabin Tent with Light. This tent has gained popularity among outdoor enthusiasts for its affordability and impressive features. In this article, I'll provide an in-depth analysis of its performance, design, and setup process, helping you make an informed decision.
The Ozark Trail 6 Person Instant Cabin Tent with Light offers a quick 60-second setup and a freestanding design, making it ideal for campers who frequently change locations. Its integrated LED lights provide convenient illumination inside the tent, enhancing your camping experience.
Join me as we explore the key features, setup process, design, and overall performance of this affordable camping companion. By the end of this review, you'll have a clear understanding of whether the Ozark Trail 6 Person Instant Cabin Tent with Light is the right fit for your camping needs.
Let's get started.
Key Features
The Ozark Trail 6 Person Instant Cabin Tent with Light offers a range of impressive features, including:
Instant setup in under 60 seconds.
Freestanding design for easy movement and positioning.
Built-in LED lights for convenient illumination.
Removable media pocket to keep devices secure.
Removable organization pockets for added storage.
E-cable port for external power connectivity.
Three windows for natural light and ventilation.
Very affordable price point.
Where to Buy
The Ozark Trail 6 Person Instant Cabin Tent with Light is readily available for purchase at various retailers. Here are two popular options:
Amazon: You can find this tent at a very competitive price on Amazon. They often offer favorable shipping conditions, making it a convenient and reliable option for online shopping.
Walmart: Another reliable option is Walmart, where you can find the Ozark Trail 6 Person Instant Cabin Tent with Light both in-store and online. With their widespread presence, you can easily locate a Walmart near you to make your purchase.
Tent Type and Setup
When it comes to the Ozark Trail 6 Person Instant Cabin Tent with Light, its tent type and setup are worth exploring. This tent is designed for quick and effortless assembly, allowing you to spend less time setting up and more time enjoying the great outdoors.
The instant setup feature is a game-changer, enabling you to have your tent ready in under 60 seconds. The secret lies in the pre-attached steel frame, which eliminates the need for complicated assembly.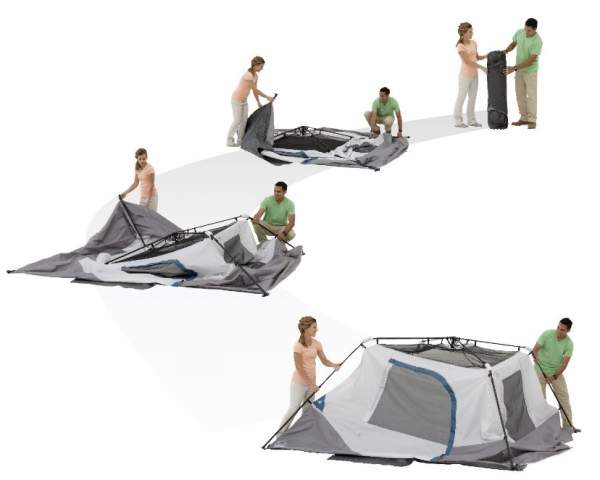 All you have to do is unfold the tent and extend the four telescopic poles. It's a straightforward process that even beginners will find hassle-free.
Freestanding Structure for Versatile Placement:
The tent boasts a freestanding design, providing stability and versatility in placement. It can stand on its own without the need for additional support, allowing you to easily move and position the tent as desired.
Even after attaching the fly, the tent remains self-supporting, making it convenient for campers who like to explore different camping spots or adjust their setup.
Spacious Cabin Style:
With its cabin-style design, the Ozark Trail 6 Person Instant Cabin Tent offers a roomy interior. The straight, angled walls maximize the usable space, providing ample room for you and your fellow campers.
Although it may not offer stand-up height, the tent's peak height of 66 inches (168 cm) allows most campers to move comfortably inside.
Single-Layer Construction with Double-Layer Windows and Door:
The tent features a single-layer construction for most of its body, with the ceiling equipped with mesh for enhanced ventilation. The minimal fly acts as a second layer, offering protection from the elements.
The windows and door feature double-layer construction with mesh and waterproof panels, ensuring proper airflow while keeping out insects and rain.
The tent's windows are equipped with zippers, providing the flexibility to adjust the panels according to your preferences.
Whether you want to let in more light or maintain privacy, the zippered windows allow you to customize the tent's interior atmosphere to suit your needs.
Built-in LED Lights
One standout feature of the Ozark Trail 6 Person Instant Cabin Tent with Light is its integrated LED lights. These lights add an extra level of convenience and functionality to your camping experience.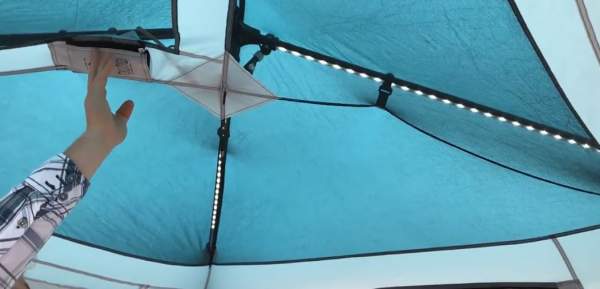 Here's what you need to know about this innovative feature:
The built-in LED lights provide reliable illumination inside the tent, ensuring you can comfortably navigate and engage in activities even after the sun goes down.
Whether you're reading a book, playing games, or simply relaxing, the lights create a cozy and well-lit environment.
The LED lights offer multiple brightness modes, typically including low, medium, and high settings. You can easily adjust the light intensity to suit your needs and create the desired ambiance inside the tent.
This versatility allows you to customize the lighting based on different activities or personal preferences.
To power the LED lights, the tent is equipped with a battery pocket where you can conveniently store and replace batteries. This ensures that you always have a reliable power source for the lights during your camping trips.
Make sure to bring spare batteries to extend the runtime of the lights.
Practical Switch Placement:
The switch for controlling the LED lights is usually located on the tent's ceiling or sidewall, providing easy access and visibility. This thoughtful placement allows you to effortlessly turn the lights on or off without any hassle.
The integration of LED lights in the Ozark Trail 6 Person Instant Cabin Tent enhances your camping experience by providing convenient and adjustable illumination. Whether you need to find your belongings, engage in activities, or simply create a cozy atmosphere, these built-in lights have you covered.
Who is It for?
The Ozark Trail 6 Person Instant Cabin Tent with Light is officially designed to accommodate six people. Here's a breakdown of the target audience and suitability of this tent:
Capacity and Usage Scenarios
As I mentioned earlier, the Ozark Trail 6 Person Instant Cabin Tent with Light is officially designed to accommodate up to six people. With its floor area of 90 ft² (8.36 m²), this tent provides approximately 15 ft² (1.4 m²) of space per person.
This makes it suitable for various camping scenarios, such as group trips, cross-country tours, or attending outdoor concerts and festivals.
Ideal Users
In my opinion, this tent is particularly well-suited for couples or parents with one small child during summer camping. While the tent can accommodate two queen airbeds, it is important to note that it may limit the available space for movement and storage.
For a more comfortable experience, using the tent for couples or small families is recommended.
Weight and Packed Size
Considering its weight, the Ozark Trail 6 Person Instant Cabin Tent is on the heavier side, making it more suitable for car camping rather than backpacking or extended hikes.
Although it is lighter than comparable tents in its class, it is still bulkier, which may not be ideal for long-distance travel or situations where portability is crucial.
Seasonal and Climate Suitability
This tent is primarily designed for summer camping or, at most, 1.5 to 2 seasons. Unfortunately, no specific information regarding its waterproof rating is provided.
The minimal fly and multiple openings on three sides suggest that it may not perform well in harsh weather conditions. As a result, it is advisable to exercise caution and avoid subjecting the tent to severe rain or winds.
Stability and Wind Resistance
While the tent appears stable with its boxy structure, I would not recommend using it in strong winds or heavy rain. It's worth noting that there are no options to stake the floor sides in the middle.
However, guylines are available for the vents' flaps to provide additional stability during windy conditions.
Suitable Climate
Due to its mesh roof, the tent is better suited for warm climates where ventilation is essential. It may not provide sufficient insulation for cold environments, making it less suitable for camping in colder temperatures.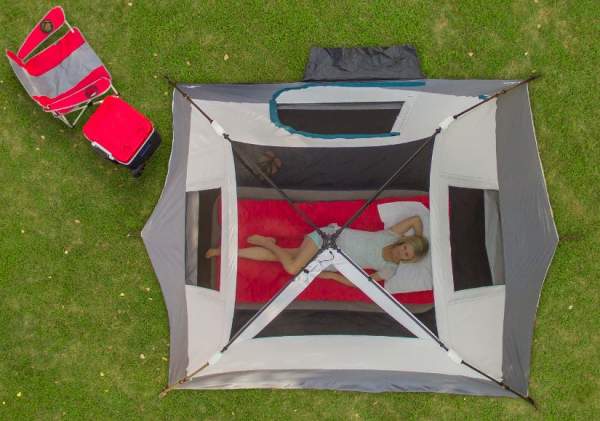 Materials and Construction
The Ozark Trail 6 Person Instant Cabin Tent with Light is constructed using durable materials and thoughtful design elements to ensure longevity and convenience. Here's a closer look at its key features:
Sturdy Steel Frame and Telescopic Poles:
Constructed with a robust steel frame, this tent provides stability and support. The telescopic poles easily extend to create the tent's structure, ensuring it remains steady even in mild winds. This sturdy construction ensures the tent withstands the rigors of outdoor adventures.
Additional Pole for Brim Support:
To enhance stability and protect against the elements, an additional pole is included above the door area. This feature creates a small brim, preventing rainwater from dripping into the tent and keeping the interior dry and comfortable.
Bonus Features
The tent is equipped with useful features for added convenience. Let's take a look!
An E-cable port is provided, allowing you to connect external power sources and conveniently charge your devices or power electronic equipment during your camping trip.
The tent features a lantern loop on the top, providing a convenient hanging spot for your lighting equipment, ensuring visibility inside the tent during nighttime.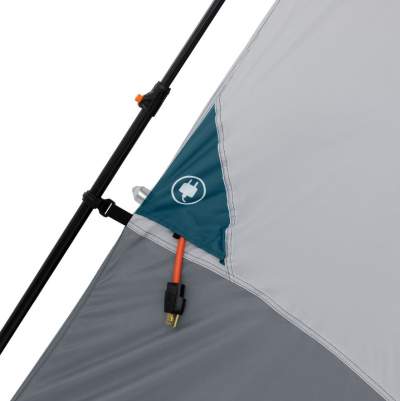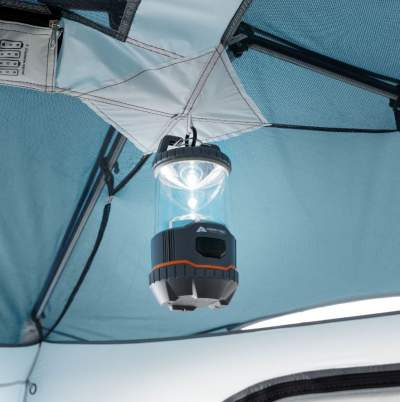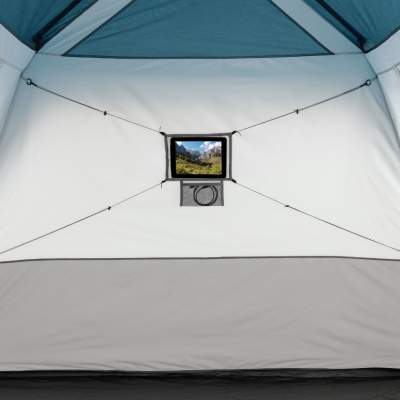 Removable Media Pocket and Organizer:
The tent includes a removable media pocket to securely store your devices, keeping them within reach.
Additionally, a large removable organizer with multiple pockets offers extra storage space for your camping essentials, allowing for easy organization and accessibility.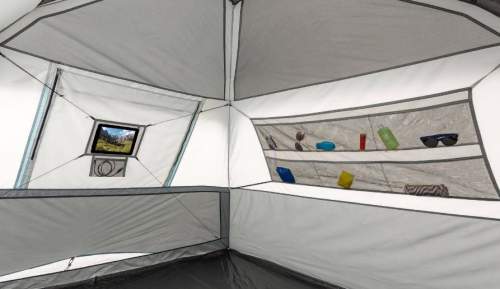 Ventilation
Proper ventilation is crucial for a comfortable camping experience, and the Ozark Trail 6 Person Instant Cabin Tent with Light excels in this aspect. Here's a closer look at its ventilation design:
The tent features a mesh roof that allows hot air to escape, promoting airflow and keeping the interior cool and comfortable. This design prevents condensation buildup and allows for a refreshing camping experience, especially during warm weather.
To further enhance ventilation, the tent is equipped with two large side vents. These vents run the length of the tent, facilitating excellent airflow throughout. The mesh panels on the vents prevent insects from entering while allowing fresh air to circulate within the tent.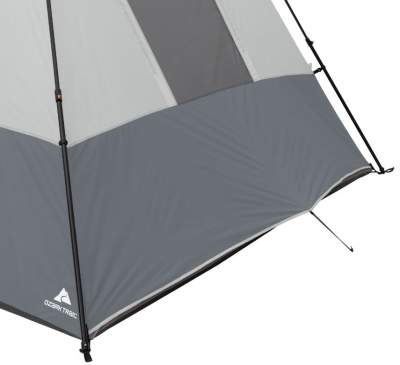 The combination of the mesh roof and side vents ensures efficient airflow, preventing stuffiness and creating a pleasant environment inside the tent. This feature is particularly beneficial during hot summer days or in areas with high humidity.
By promoting proper airflow, the tent's ventilation system helps reduce condensation buildup. This is especially important during cool nights or in locations where moisture levels are high. The ventilation design aids in keeping the interior dry and comfortable.
Specifications
To provide a clear overview of the Ozark Trail 6 Person Instant Cabin Tent with Light, here is a table summarizing its key specifications:
| Specification | Details |
| --- | --- |
| Capacity | 6 people |
| Weight | 19.38 lb (8.8 kg) |
| Dimensions | 10 x 9 ft (3.05 x 2.74 m) |
| Peak Height | 66 in (168 cm) |
| Floor Area | 90 ft² (8.36 m²) |
| Area per Person | 15 ft² (1.4 m²) |
| Packed Size | 43 x 8 in (109 x 20 cm) |
| Construction | Steel frame with telescopic poles |
| Carry Bag | Included |
Final Thoughts, Rating, Pros & Cons
Ozark Trail 6 Person Instant Cabin Tent with Light
Final Thoughts
In my opinion, the Ozark Trail 6 Person Instant Cabin Tent with Light is an impressively designed and affordable option. Its express setup design makes it ideal for frequent travelers, and the integrated LED light sets it apart from competitors.If you're looking for an affordable tent for occasional use, this is the one to consider. The price is unbelievably low, especially compared to similar lighted tents like the Big Agnes Titan 6 mtnGLO.Overall, the Ozark Trail 6 Person Instant Cabin Tent with Light offers excellent value. While it may not be suitable for extreme weather or backpacking, it performs well for casual camping in warm climates.To sum it up, this tent combines practicality, affordability, and convenience, making it a solid choice for occasional campers.
Pros
Impressively designed and well-built
Express setup design
Integrated LED light
Affordable price
Suitable for frequent travelers
Good value for the cost
Cons
Not ideal for extreme weather conditions
Not suitable for long backpacking trips
Limited space per person when fully occupied
More suitable for casual camping in warm climates
If you're looking for more options to consider, I recommend exploring various categories on the market. There are numerous family camping tents available, and you're likely to find one that suits your specific needs.
One alternative to consider is the Alps Cedar Ridge Rimrock 6 Tent. It offers affordability and features a different style compared to the Ozark Trail tent.
If you're planning shorter trails and need a tent with the same capacity, the Big Agnes Big House Deluxe Camping Tent 6 could be a suitable choice.
Please note that this review is not sponsored, and I am not affiliated with any specific brand. If you have any questions or comments, feel free to use the comment box below. Have a great day!