When browsing through tent descriptions, you may come across the term "hinged door." But what exactly is a tent-hinged door? In this blog post, I will delve into the details of this feature, providing you with a comprehensive understanding that you can use as a reference. Whether you're a seasoned camper or a novice adventurer, knowing about hinged tent doors can greatly enhance your camping experience.
Design of a Hinged Tent Door
Perimeter Poles: A hinged tent door is characterized by poles that run along the door's perimeter. The design typically consists of a vertical pole serving as the axis around which the door swings, along with at least one curved pole that gives the door its shape. This configuration ensures stability and functionality for the hinged door.
D-Shaped Structure: Most hinged tent doors feature a D-shaped structure. When constructed using two poles, the door's profile becomes fully flat. This design requires the wall of the tent to be straightened, enabling proper closure of the door. The combination of a D-shaped structure and a straightened wall ensures a secure and reliable door mechanism.
Applications of Hinged Tent Doors
Cabin-Style Tents: Cabin-style tents are well-suited for hinged doors due to their straightened walls. The design of these tents provides an ideal foundation for incorporating hinged doors, allowing for easy swinging and proper closure. The straightened walls ensure a seamless fit between the door and the tent structure, enhancing the overall functionality of the hinged door.
Dome-Shaped Tents: Contrary to popular belief, hinged doors are not limited to cabin-style tents. Dome-shaped tents can also feature hinged door designs. While the curved shape of dome tents presents unique challenges, manufacturers have successfully implemented hinged doors in dome-shaped tent models, offering a versatile option for campers who prefer this tent style.
Functionality and Features of Hinged Tent Doors
Poles and Sleeves: Hinged tent doors incorporate poles inserted into sleeves that run along the door's perimeter. These sleeves provide stability and support to the door structure. Additionally, a zipper is usually included along the sleeves, allowing for easy opening and closing of the door.
Velcro Tabs for Insect Protection: To ensure a bug-free interior, hinged tent doors are equipped with Velcro tabs. These tabs secure the door and tent wall together, creating a tight seal that keeps insects out. The presence of Velcro tabs allows the door to close automatically, providing added convenience and peace of mind.
Zipper Closure: In addition to Velcro tabs, hinged tent doors are typically equipped with zippers that provide a complete closure. This ensures privacy, protection from the elements, and enhanced security within the tent.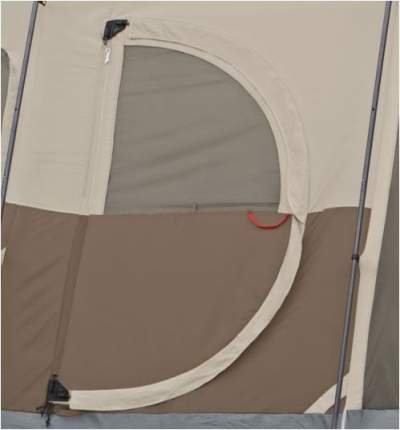 Storm Flap for Weather Protection: In some cases, hinged tent doors may have a storm flap to provide extra protection against harsh weather conditions. The storm flap covers the zipper, preventing rainwater from entering the tent. It may be designed to transition from the upper section of the wall to the lower section of the door, ensuring that the zipper remains shielded from rainwater.
Challenges and Considerations with Hinged Tent Doors
Manual Adjustment of the Storm Flap: While the storm flap serves a crucial purpose, it can sometimes be an inconvenient detail. To ensure proper functionality, users may need to manually adjust the flap so that the Velcro tabs make contact. Failure to do so may result in the upper part of the flap being pressed by the door. This manual adjustment ensures a secure and effective seal.
Conclusion:
Hinged tent doors offer a practical and efficient solution for campers seeking convenience, insect protection, and enhanced functionality. Whether in cabin-style tents with straightened walls or dome-shaped tents, hinged doors provide a versatile option for a variety of camping needs. With their unique design, incorporating poles, Velcro tabs, zippers, and storm flaps, hinged tent doors offer a reliable and adaptable feature that contributes to an enjoyable camping experience. Explore the world of tents with hinged doors and discover the benefits and possibilities they offer for your outdoor adventures.