The Vango 6-Person Odyssey Air 600 Tent has no metal poles and is supported solely by air beams. It has a large floor area of 190 ft2 (17.67 m2).
Key features and advantages
There are no metal poles, only air beams.
The setup is simple.
Very dependable and excellent weather protection.
"Lights out" style.
What type of tent is this
Air beams
This means that you do not have traditional metal poles. Instead, the tent is supported by three air beams. You only need a pump in the package to raise the tent from the ground in minutes. The air beams are pre-angled to provide more internal room and better bracing against side winds.
Design for turning off the lights
This expression has the same meaning as the dark rest or dark room phrase. So, an inner layer darkens the interior, allowing you to sleep longer in the morning or nap throughout the day. This is a new design trend in family camping tents, as seen below.
Tent within a tent
An interior sleeping area tent is linked to the outer shell. A partition separates the sleeping area. This means a three-room tent with two sleeping units and a huge sitting area. Please see the floor plan below:
As you can see from the image above, there is a few centimetres of space between the inner and outer tents on both sides, which is helpful for ventilation. The tent has two external and two internal doors, and it is tunnel-style, with three air loops forming the tunnel framework.
So, this is a hybrid design, with one half of the tent being a single layer and the sleeping zone being a double layer.
Who is it intended for?
This tent has a stated capacity of 6 people. The floor area is 190 ft2 (17.67 m2), which equates to 32 ft2 (2.94 m2) per person. As a result, this is a true luxury at the camp.
The tent is appropriate for both groups and families. Its weather resistance makes it a true three-season tent.
The packed dimensions are approximately 70 x 37 x 36 cm, which is quite nice, but its weight is approximately 17.5 kg. Therefore, transportation will require a vehicle.
A little more on building
The seating area here features a linked-in groundsheet with advantages and disadvantages. It may be attached or detached from the living space, making it simple to clean. When you're not using it, roll it beneath the bed. The disadvantage is that the seating area is unprotected from ground, water, or crawling critters. However, the bedroom space is shut.
Inner pockets are ideally placed for organising little goods.
The carry bag is larger and has 50% more volume, as shown in the image below.
The two bedrooms are ISO standard in size. Each can fit a queen-sized bed.
You have lantern hanging places strategically placed to attach lights.
The entrance has a complete mesh door for ventilation and pest protection.
You have patented the Vango TBSII Tension Band System for tent stability in inclement weather. The bands reinforce the pole at three points, preventing it from moving sideways. When not in use, they can be stowed; one example is seen below.
When not in use, the inner barrier can be rolled away.
Vango AirZone's high and low-level ventilation panels provide a pleasant air flow.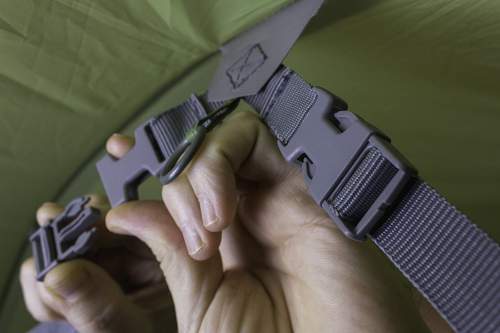 Material properties and weather resistance
Vango Protex 70 denier polyester flysheet is included. The waterproof rating is 4000 mm, indicating that this is a reasonably robust and reliable material. The approved test laboratory has weather-tested it to European standard EN5912.
The seams are factory taped, and this applies to all flysheets and groundsheets made of waterproof PE material that is durable and long-lasting, designed to withstand the rigours of the most active campers.
The windows are made of solid PVC that is highly clear to optimise light and visibility. The inner doors (you have two) are partially mesh to allow ventilation while keeping pests out.
Specifications
Capacity: 6 people.
Weight: 38.6 lb (17.5 kg).
Dimensions (L x W): 183.07 x 149.61 in (465 x 380 cm).
Floor area: 190 ft² (17.67 m²).
Area per person: 32 ft² (2.94 m²).
Peak height: 79.92 in (203 cm).
Packed size: 70 x 37 x 36 cm.
Pitching time: 8 minutes.
Final thoughts, rating, pros & cons
Vango 6 Person Odyssey Air 600 Tent – Huge Floor Area
Final Thoughts
To summarise this Vango 6-Person Odyssey Air 600 Tent review, this is a luxurious camping alternative. This is a dependable but pricy tent for family and group camping, and I wholeheartedly suggest it.
Pros
The packing size is excellent.
The setup is simple.
There are two external doors.
Excellent weather resistance.
"Lights out" style. A large area.
Cons
A little heavy.
The living room floor is not stitched in.
Please use the comment box below if you have any queries or remarks. Thank you for taking the time to read this, and have a wonderful day.