With its 5+1 rooms, 13 windows, 5 doors, and a lot more, the Ozark Trail Hazel Creek 20-Person Star Tent with Screen Room is one of the finest tents on the marketplace. Continue reading.
Key Features & Benefits
5 Rooms.
There are 13 windows.
5 + 1 Doors.
There is a lot of room.
There are four E-cable ports.
There are numerous storage pouches.
Excellent value.
What type is this Ozark Trail Hazel Creek 20-Person Star Tent
This is a massive structure with the basis of a smaller house, measuring 23 by 24.5 feet (701 x 747 cm). When you see the image below of the tent standing above, you realize how beautiful this building is, and you also know why they named it Star.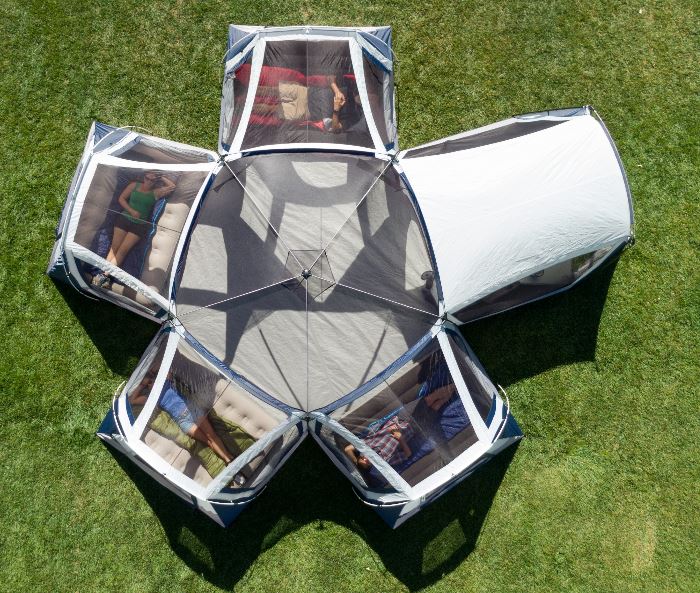 This is a cabin-style construction with four independent sleeping rooms, a vast pentagonal central space, and a screen room in the elongated section on the right in the image above. So this is a 5-room tent, including the screen room, and it is on my list of the most fabulous 5-room tents.
As of the time of writing, there is no similar tent in the marketplace with 6 rooms. Therefore, this is one aspect that distinguishes this tent.
The shapes of the letters Q in the above image indicate that the sleeping rooms have one queen-size bed, while the central room has two. This is also a tall building, with a stand-up height in each chamber and a peak height of 84 inches (213 cm) in the centre room.
This is entirely flooring space, the view from the central pentagonal room. Take note of the actual partitions with zippers that go to each of the four chambers.
The sleeping chambers are physically isolated. Together with the previously discussed zippered dividers, it provides more privacy than many other tents on the market. A tent offers complete privacy.
Also, each sleeping chamber has its unique external door.
Each sleeping room has three windows (one on the door and two on the sides) for thirteen. They are dual-layer, with mesh and zipped panels from the inside, providing full safeguarding from outside elements and insects, as well as privacy.
The Screen Room
The screen room alone has 61 ft2 (5.7 m2) of space, and the image below illustrates how it appears from the front. As you can see, it has a detachable rug that partially covers the floor, and the room only provides minimal rain protection. However, you are entirely safe from bugs that fly.
The spot is ideal for preparing food or eating because it is in the shade and is free of insects. Because of the ample space, I put this tent on my list of the best tents with screen rooms.
Note that the screen room is quite deep, with a total depth of 8 feet (244 cm). This can be seen in the image below.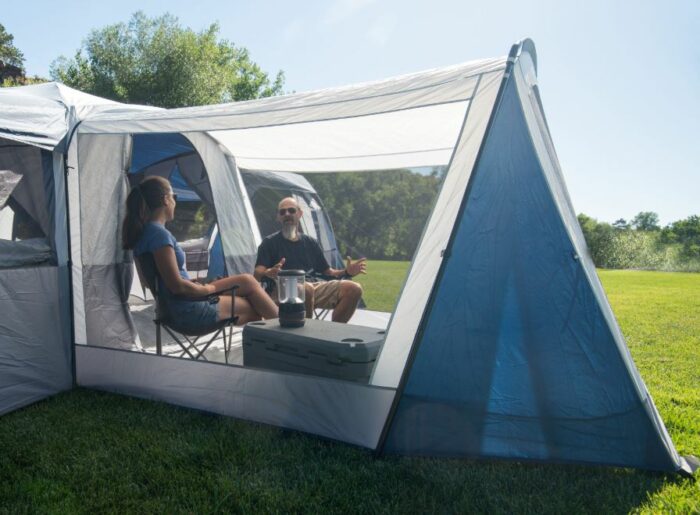 The Materials
Poles and pegs
The package contains 22 poles, including 7 steel poles used for the legs and 15 fibreglass poles used for the roof structure. Everything is colour-coded, so even though the tent is large, you can set it up in 30 minutes with some practice. You'll also need 34 steel stakes to secure the tent properly. Look at all the elements in the image: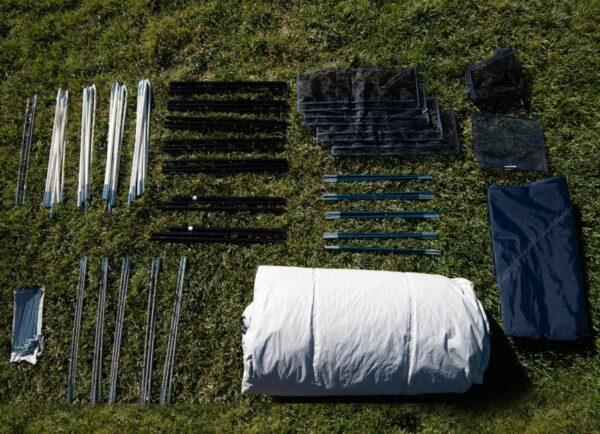 The fabric
The walls and fly are poly taffeta 185T, with a 1200 mm water-resistant rating. You won't need anything else for such a tent. The seams have been taped.
The floor is made of rugged, water-resistant polyethylene. The mesh areas are made of 68D poly mesh. The carry bag (pictured below) is made of poly Oxford 600D.
Other characteristics
Four E-ports keep every person connected (one is shown below).
There is a lantern loop (shown below), but it is insufficient for such a tent.
The main room has several storage compartments and a gear loft. Some are shown in the images below. So you have 6 3-section pockets, 2 wall pockets, 1 gear loft, and 4 gear hammocks.
There are eight reflective-colored guy ropes offered.
In the centre of the room, the poles have a single 5-way centre joint.
There are five 4-way joints for connecting corner poles.
For the screen room, there are two 2-way joints.
Because this is a significant structure with numerous components, it is critical to follow the setup instructions. This setup manual contains all of the details.
Ventilation
You can see from the pictures above that the framework of the ceiling is all mesh, so it is more significant than 279 ft2 (26 m2). Because all 13 windows are mesh, air circulation is almost promised.
However, I still need to spot some floor vents; they are vital if there is long-term rain and all windows must be closed. It's a shame they didn't include any.
Who Is the For
Regarding the area, The capacity is 20 people. You have 279 ft2 (26 m2) for this, which equates to 13.95 ft2 (1.3 m2) per person in the scenario of 20 users. As a result, while it should be feasible to place 20 sleeping pads on the ground, this limit makes little sense. The tent is enormous, but the declared capacity should be drastically decreased. Nonetheless, it is on my list of the best camping tents for 20 people.
Given the number of rooms, this tent is for huge families. It is additionally perfect for four couples due to the separate doors for each of the sleeping rooms, as each of them has a particular sleeping area for privacy, as well as the central living room and the screen room for sitting and socializing.
This is nearly the same area as their other 20-person giant shown on the site, but it looks larger with its star structure.
Seasons-wise & climate-wise, they describe it as a 3-season tent in terms of seasons and climate. However, I do not believe this is the case, and it is most appropriate for summertime camping only. You would want to use it in something other than a cool environment with so much mesh on the ceiling. This is a tent over weather with little rain and wind.
Weight-wise, the tent weighs 60.2 lb (27.3 kg), so it's not very light, but consider its size and 22 poles. The previously mentioned large wheeled carry duffle makes transportation relatively simple.
The packed size is 32 x 15.5 x 11.5 inches (81 x 39 x 29 cm), an excellent dimension for such a large tent. Overall, this is a tent for locations with car access.
Specifications
Declared capacity: 20 people.
Weight: 60.2 lb (27.3 kg).
Dimensions: 23 x 24.5 ft (701 x 747 cm).
Peak height: 84 in (213 cm).
Inner area: 279 ft² (26 m²).
Inner area per person: 13.95 ft² (1.3 m²).
Vestibule area: 61 ft² (5.7 m²).
Packed size: 32 x 15.5 x 11.5 in (81 x 39 x 29 cm).
Poles: steel and fiberglass.
1-Year Limited Warranty.
Final Thoughts, Rating, Pros & Cons
Ozark Trail Hazel Creek 20-Person Star Tent with Screen Room
Final Thoughts
To summarize this Ozark Trail Hazel Creek 20-Person Star Tent with Screen Room review, what you've seen over is a one-of-a-kind building and, in my opinion, the most amazing tent on the marketplace right now. This is a tent to think about if you have a large family. The same is true if you have friends or couples who want to go camping together; more privacy is impossible in a tent.
Pros
Outstanding design.
Very enjoyable.
There is a lot of security.
Storage components.
Excellent value.
Cons
Not so simple to set up.
There are no floor vents.
If you have any questions, please leave them in the comment section below. Thank you for taking the time to read this, and have a wonderful day.