The Ozark Trail 20 x 10 Dark Rest Instant Cabin Tent has a lot of characteristics, including a 3-room, 12-person freestanding framework with an instant setup and a glare-reducing design.
Key features and advantages
The capacity is 12 people.
Setup takes only 2 minutes.
Dark rest technology helps to reduce glare.
Tall and highly livable.
A lot of space.
3 rooms.
There are two large double doors.
Access to an electrical port.
Where to buy:
Amazon has the tent for sale.
It's also available at Walmart.
What is the nature of this tent?
The following tent's identity is self-explanatory, but if you're unfamiliar with the terminology, here are some keywords about its features. Its outer dimensions are 20 x 10; it is almost rectangular, near its ground dimensions.
The tent is cabin style, which indicates tall and relatively steep walls, so it is a typical and livable structure.
The tent is also of the instant variety, which indicates that the frame has been fastened to the tent body. So the setup is quick; you unfold it, extend its telescopic leg poles, and it's ready in 2 minutes if two people do it.
However, as you may have guessed, there is more to the name – this is a dark rest technology. Some producers refer to their tents as "dark room tents," while others refer to them as "lights out tents." This trend is emerging, but there are numerous models on the market.
This Ozark Trail 12-person dark rest tent is part of a series that includes a 6-person dark rest tent and two versions of a 10-person tent, one described in a separate review and the other in this list of dark tents.
This is also a three-room tent, with separate units created by two removable dividers, as seen in the photos.
The tent is self-supporting, but I would not skip staking it down properly; this is a heavy and oversized structure that would not perform well in the wind if not properly secured.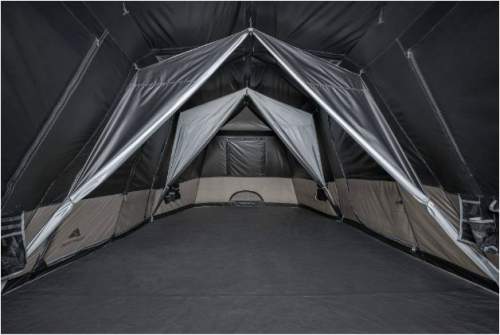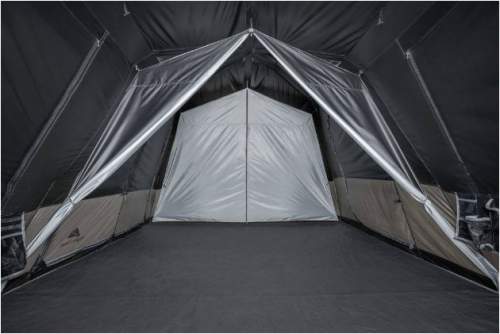 But what exactly is a dark rest tent?
You may have known it before, but I want to emphasize now that you have dark material utilized in the tent's development, particularly on the top layer, and you can additionally control the quantity of light and minimize reflections. This allows you to stay asleep longer in the early hours or nap during the day, creating a more relaxed environment in the tent.
Who is this tent intended for?
The official capacity is 12 people. This is obtained through the backpacking principle, meaning you can place this many sleeping pads on the ground. This may work for teams who only stay one night in a tent, but it will never work for actual camping. It's worth noting that you don't have any outside storage space for your camping gear, shoes, or footwear. So, this is a tent for 6 – 7 people.
They claim it can fit four queen-size beds; however, even if you do, you will have to walk over the beds. As a result, this is not a choice. You can fit three beds, but there are better options than this. You'll have more room in such a tall structure if you use bunk cots. It should be noted that such bunk cots are also available for children. This can save a lot of floor space while still allowing you to store items underneath the beds.
The tent is heavy and bulky, but its dimensions are standard for a tent of this type. So, this is a camping tool for use in locations with car access.
Season-wise, this is a camping tent for the summer. I would put it in a manageable setting with such a large structure, many (lovely) windows, and minimal fly. It is not intended for this use.
However, the design allows you (some openings can't be shut), allowing you to keep some of the heat inside. So, this tent can be used in a cooler climate if you need a tent for a cold environment.
Construction and Materials
The poles
Steel is used in the vertical leg poles, and fiberglass is used on the roof's framework. This is all pre-attached in the factory, so you don't have to do much with the poles, as shown in the image above.
The fabric
The tent fabric is 190T coated polyester; no details about the water-resistant rating are provided, but the edges are taped. Take note that the ceiling is double-layered in the majority of it, so there is mesh all over and zippered panels underneath it. So you can almost entirely close the ceiling; there are a few areas where you only have the mesh, which is done with the objective of air circulation.
The fly is water-resistant, as stated, and you have numerous skylights, which are made of PVC or another comparable material. It allows light to pass through, so those serve as ceiling windows. However, the actual amount of light is controlled by the previously mentioned inner panels with zippers.
All of the windows, which are found throughout the house and on the doors, are double-paned. So there's mesh for ventilation and zippered panels for privacy and security. There is nothing to complain about here. The panels can be rolled down and secured when not in use.
The floor is of the bathtub variety, most likely polyethylene, which is appropriate and typical for such tents.
Rooms and additional facilities
You have detachable compartments that you connect with changes. They developed three separate units for privacy. You may utilize just one and set up the area as a two-room tent, or you can use them all.
Every set contains four storage elements with several pockets, as shown in the image. They are reasonable, but with such a large wall area, there could be many more of these elements.
There is also an electric cable port. A lantern can be hung on a hook in the center section. There isn't much else to say about the interior; it's simple and square, but it can be pretty dark when you want it to be.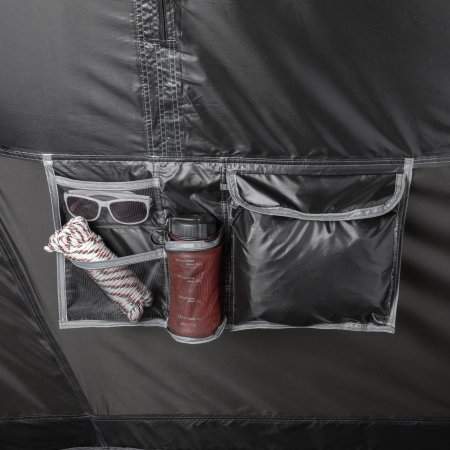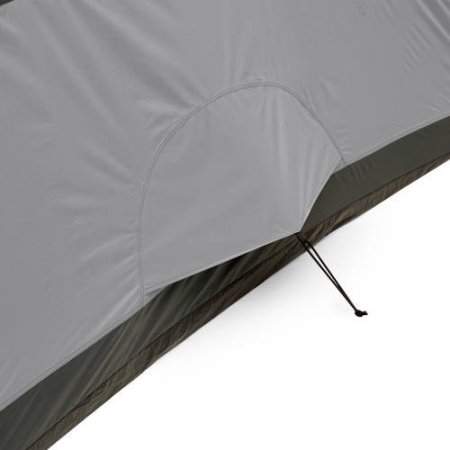 Ventilation
The tent has two vents, one on each of the two narrowed sides, as shown in the picture. For this large tent, they are relatively tiny. However, you have the ceiling with as much opening as you want, which you can adjust with the panels for the top, as well as the double-layer framework on the windows, so everything ought to function fine.
Specifications
Twelve people can fit inside.
Weight: 24.5 kg (54 lb).
Dimensions: 20 x 10 ft (6.1 x 3.05 m).
Area: 200 square feet (18.6 square meters).
16.7 ft2 (1.55 m2) per person.
Peak height: 203 cm (80 in).
Size when packed (L x D): 43 x 11 in (109 x 28 cm).
A 6-month limited warranty is provided.
The setup takes only two minutes.
A carry bag is included.
There are 19 steel tent stakes included.
Final thoughts, rating, pros & cons
Ozark Trail 20 x 10 Dark Rest Instant Cabin Tent – 2 Minutes Setup
Final Thoughts
As you can see, this Ozark Trail 20 x 10 Dark Rest Instant Cabin Tent has many features, but the dark test technology is what sets it apart. The price is reasonable, but the capacity needs to be bigger. This is common for many tents on the market, so divide this number by two to get a more or less appropriate capacity. Please remember that I have included this tent in my list of the best 12-person camping tents and the best 12-person instant camping tents. As I previously stated, this is part of a series, so if you need smaller tents of this type, check out these 6-person and 10-person tents.
Pros
Its dark rest design is very appealing.
Rooms are separated.
Affordably priced.
There are several windows.
Cons
The stated capacity is insufficient.
Thank you for taking the time to read this. If you have any queries or remarks, please use the comment box in the following sections. Have a wonderful day.