Hello, outdoor lovers! Today, let's explore an intriguing tent that's caught my eye – the Ozark Trail Base Camp 14-Person Cabin Tent. It's not your average tent; it's one of the largest cabin-style tents out there, offering four distinct rooms and twelve windows.
In this review, we'll scrutinize its unique features, including its vast space, multiple rooms and doors, and its electric cable port. We'll also take a look at its price and how it compares to other options on the market.
So, buckle up as we uncover the details of this colossal camping tent. Could it be your next camping companion? Read on to find out!
Key Features & Benefits
The Ozark Trail Base Camp 14-Person Cabin Tent is a large, cabin-type camping tent that comes with several features that make it stand out from other camping tents. Some of its key features and benefits include:
Incredibly huge space – big enough for 5 queen size beds.
4 rooms.
4 doors.
12 big windows.
Various options with dividers.
Totally incredible price.
Electric cable port.
Where to buy
This tent is available on Amazon.
You will find it also at Walmart.
What Type of Tent is This – What is in the Name
The Ozark Trail Base Camp 14-Person Cabin Tent is a unique structure that combines the features of a non-freestanding and cabin-type tent.
This means that it is not self-supporting and must be staked down to its corners to remain upright, while the walls are high and almost vertical, giving it a spacious and open feel.
The tent's walls are high and almost vertical, giving it a spacious and open feel. The peak height in the central dome area is an impressive 78 inches (198 cm), making it comfortable for even the tallest campers to stand up inside.
Cabin-type tents are usually freestanding, which makes the Ozark Trail Base Camp 14-Person Cabin Tent a unique structure.
However, this tent is so large that it requires staking at its corners to maintain its shape. The eight included stakes should be used to secure each of the tent's corners.
The tent's name, "Base Camp," may lead some to believe that it is designed for mountaineering or other extreme outdoor activities. However, this tent is specifically intended for summer camping.
The large windows on all sides provide a panoramic view of the outdoors, while the mesh on the ceiling allows for stargazing on clear nights.
The Area Issue – How Much Space Do You Really Have?
So, you've heard that the Ozark Trail Base Camp 14-Person Cabin Tent is massive, but how much space does it really have?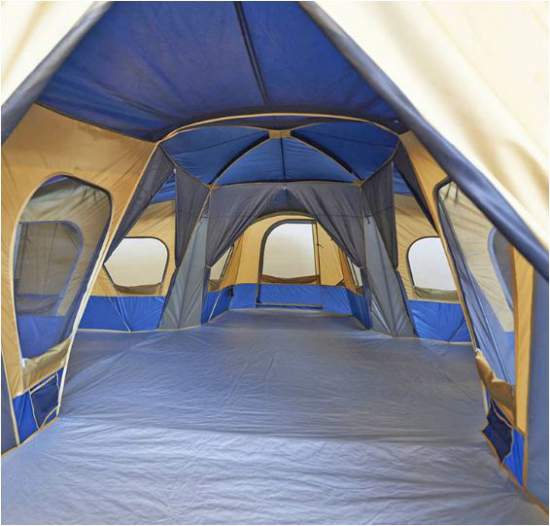 The tent is marketed as having a ground area of 20 x 20 feet (6 x 6 meters), which means it has a total area of 400 square feet (37 square meters). However, it's important to note that this is not the same as the tent's floored area.
Actual Protected Area
The tent's actual protected area is estimated to be around 222 square feet (20 square meters), or perhaps a bit more. This estimate is based on a simple calculation where you divide the tent's floor space into 3 x 3 equal units and then subtract 4 units.
The remaining units will create the cross-shaped tent structure that you see in the tent's design.
The tent's protected area is big enough to accommodate up to five queen-size beds. However, if you do so, you will not be able to close the dividers between the rooms.
The tent's built-in dividers can be fixed to the walls to create various options with one, two, three, or four rooms, depending on your preference.
Accommodation
Despite being marketed as a 14-person tent, it is not realistic to expect this tent to comfortably accommodate that many people. The tent's floor area is large enough to fit up to nine sleeping pads side by side, with five additional pads that can be accommodated in the two sections of the tent's other branch.
However, this option would not provide much privacy or comfort, particularly if you have a lot of gear and personal belongings to store inside the tent.
A family of up to six kids could comfortably camp in this tent, with enough space for a central dome section for sitting and spending time together, and three separate rooms for parents and children.
Another option is to use bunk cots, which can fit nicely against the walls of the cabin tent and save a lot of floor space.
Who is It for?
Regarding Size and Capacity
The Ozark Trail Base Camp 14-Person Cabin Tent is one of the largest family camping tents on the market, offering an incredible amount of space for its users.
However, the tent's actual size might not be as large as its marketed size suggests. While it has a ground area of 20 x 20 feet, the actual floor area is estimated to be around 222 sq ft (20 sq m), which can accommodate up to five queen-size beds.
Despite its marketed capacity of 14 people, it may not be realistic to expect that many people to fit comfortably inside the tent.
In my opinion, the tent is best suited for families with up to six kids or smaller groups of adults who want plenty of space to move around in.
Regarding Seasonality and Weather Conditions
The Ozark Trail Base Camp 14-Person Cabin Tent is designed for summer camping and moderate rain conditions, with huge windows on all sides to provide ventilation and a mesh ceiling for stargazing at night.
However, the tent's high amount of mesh makes it unsuitable for colder environments or windy conditions.
The tent's large size and non-aerodynamic shape make it difficult to withstand strong winds, which could put a lot of pressure on the tent and cause damage.
Despite its large size, the tent is surprisingly lightweight and easy to transport. It comes with a carry bag included, which makes it easy to pack and carry on your camping trip.
However, its size means you'll need a car with a spacious trunk or roof rack to transport it.
How Many Rooms?
The Ozark Trail Base Camp 14-Person Cabin Tent offers a versatile setup with its multiple rooms and dividers. Let's take a closer look at the configuration options:
Cross-shaped Structure:
The tent features a unique cross-shaped structure, with a central dome area that is connected to the main entrance.
This central dome area serves as the largest space in the tent, providing a communal area for gathering, dining, or relaxation.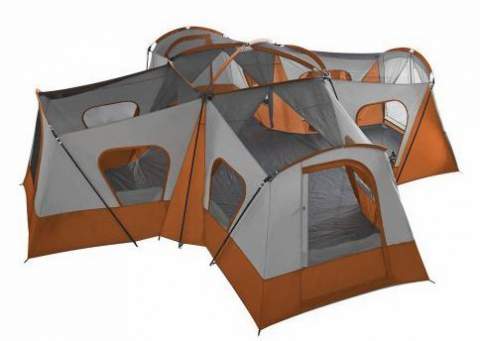 Dividers for Room Separation:
Unlike many other tents, the Base Camp 14-Person Tent includes built-in dividers that fully close off the walls.
These dividers are sewn into the walls and have central zippers, allowing you to create separate rooms and provide privacy when needed.
By fixing the dividers to the walls, you can create up to four separate rooms within the tent. Three of these rooms are of equal size, while the fourth room is almost double in size.
This room configuration provides flexibility for accommodating different sleeping arrangements or creating designated spaces for various activities.
External Doors for Each Room:
One of the convenient features of this tent is that each room has its own exit door. With a total of four external doors, campers can easily access their respective rooms without disturbing others.
This feature adds convenience, especially during nighttime bathroom trips or when returning to the tent after outdoor activities.
The option to create multiple rooms with separate entrances makes the Ozark Trail Base Camp 14-Person Cabin Tent an excellent choice for families or groups who value privacy and desire distinct living spaces within the tent.
It's important to note that while the tent's capacity might suggest accommodating 14 people, it's more practical to consider the available space and divide it accordingly for optimum comfort and privacy.
How Many Seasons?
The Ozark Trail Base Camp 14-Person Cabin Tent is specifically designed for summer camping and mild weather conditions. Here's what you need to know about its seasonality:
The tent is optimized for warm-weather camping adventures. With its large windows on all sides, it provides excellent ventilation, allowing fresh air to circulate throughout the tent.
The mesh on the ceiling and windows also helps to keep insects out while providing an unobstructed view of the surroundings. This makes it a great choice for enjoying the summer breeze and starry nights.
Limitations for Cold Weather
Due to the tent's design and construction, it is not suitable for cold environments or camping during colder seasons. The generous amount of mesh on the ceiling and windows means it won't effectively retain warmth in colder environments.
If you're planning a camping trip during cooler seasons, it's advisable to opt for a tent specifically designed for colder temperatures to ensure cozy insulation and protection against the elements.
While the tent is sturdy and reliable in mild weather conditions, it is not designed to withstand strong winds. The non-aerodynamic shape and large surface area make it susceptible to wind pressure, which can compromise its stability.
It is recommended to set up the tent in a sheltered area or use additional guy lines and stakes for added stability during windy conditions. However, it is important to note that this tent is not suitable for use in high-wind environments.
To summarize, the Ozark Trail Base Camp 14-Person Cabin Tent is ideal for summer camping trips where mild weather conditions are expected. It provides ample ventilation, panoramic views, and a comfortable living space. However, it is not suitable for cold-weather camping or use in high-wind environments.
Materials and Construction
When it comes to materials and construction, the Ozark Trail Base Camp 14-Person Cabin Tent is built to last and withstand the demands of outdoor adventures. Let's explore its construction details:
The tent features a robust framework with 12 main poles made of steel and 10 roof poles constructed from fiberglass. This combination provides stability and strength, ensuring that the tent can withstand various weather conditions and remain standing tall throughout your camping experience.
While there is no specific waterproofing rating mentioned, the tent is designed to be waterproof. All the seams are meticulously taped to prevent water from seeping through, keeping you dry and comfortable even during rainy days.
The double-layered windows and doors offer additional protection against moisture infiltration.
The tent is equipped with four doors, each designed with convenience in mind. The main door features an inverted T-shape zipper, while the remaining three doors have D-shaped zippers.
This variety of entry points makes it easy to move in and out of the tent without disturbing other occupants. Additionally, all the windows and doors are equipped with mesh and panels to provide ventilation while keeping insects out.
The tent comes with a minimal fly, offering just enough coverage to protect against rain while still allowing for unobstructed views through the windows.
This design choice ensures that you can fully appreciate the surrounding natural beauty without compromising on weather protection.
Additional Features:
Electric Cable Port: The tent includes an electric cable port, allowing you to conveniently connect electrical devices inside the tent.
Lantern Hook: A hook is provided in the main area of the tent, offering a convenient spot to hang a lantern for ambient lighting during evenings.
Wall Pockets: The tent has a few small pockets on the walls for storing smaller items, providing some organization options for your gear and personal belongings.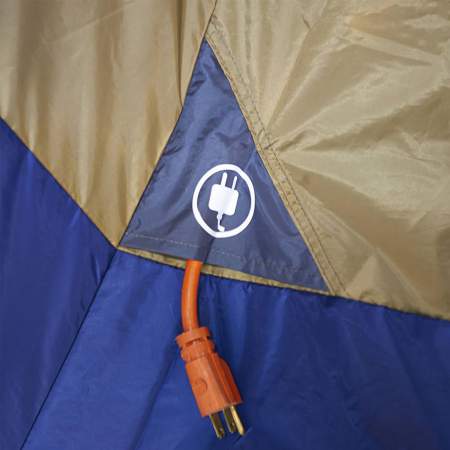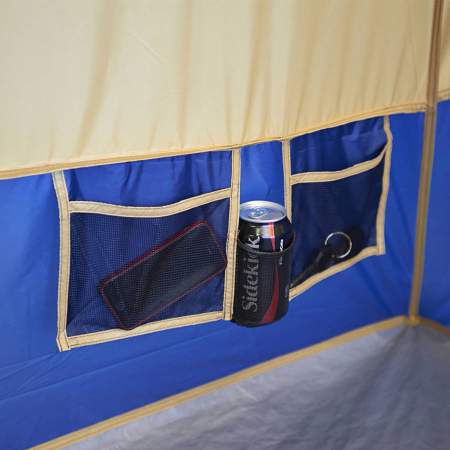 Setup and Ease of Use
Setting up the Ozark Trail Base Camp 14-Person Cabin Tent can be a daunting task given its size, but it's not as difficult as you might think. The manufacturer suggests that two people can set it up in 20 minutes, but in reality, it might take longer.
Here are some steps to follow when setting up the tent:
Find a suitable location: Look for a flat and level ground that is free of rocks and debris. Ensure that you have enough space to set up the tent.
Lay the tent out: Unfold the tent and lay it out flat on the ground. Make sure all the corners and edges are aligned.
Assemble the frame: Begin assembling the frame by inserting the poles into their corresponding sleeves. Start with the center room and work your way outwards.
Raise the tent: Once the frame is assembled, it's time to raise the tent. Start at the center room and work your way outwards, raising the walls as you go.
Secure the tent: Once the tent is raised, it's time to secure it in place. Stake the corners and guy out of the tent to prevent it from blowing away.
It's important to note that setting up this tent can take longer than 20 minutes, especially if you're doing it alone. The tent is quite heavy and bulky, so it's essential to have an extra pair of hands to help.
Solo Setup:
While the tent is designed for a two-person setup, it is possible to set it up on your own. There are videos available online that demonstrate individuals successfully setting up the tent solo. Keep in mind that solo setup may take additional time and effort, but it can be accomplished with patience and practice.
User-Friendliness:
The tent is generally user-friendly, offering convenience during your camping experience. However, a few areas could be improved:
Pockets: The tent provides small pockets, one per room and two in the main area, for storing small items. While these pockets offer some organizational options, additional pockets would be beneficial considering the tent's size.
Ventilation: The tent features mesh windows and a mesh ceiling for ventilation. However, specific vents above the floor are lacking. During extended periods of rain, closing the panels for protection may affect airflow and ventilation within the tent.
Specifications
Here's a comprehensive table summarizing the specifications of the Ozark Trail Base Camp 14-Person Cabin Tent:
| Specification | Description |
| --- | --- |
| Weight | Approximately 47.96 lb (21.8 kg) |
| Ground Area | 20 x 20 ft (6 x 6 m) |
| Floor Area | Approximately 222 sq ft (20 sq m) |
| Area per Person | Approximately 15.9 sq ft (1.43 sq m) per person |
| Peak Height | 78 in (198 cm) |
| Packed Size (L x D) | 28.5 x 13.75 in (72 x 35 cm) |
| Carry Bag | Included carry bag for easy transportation and storage |
| Stakes Included | Stakes for securing the tent provided |
Final Thoughts, Rating, Pros& Cons
OZARK TRAIL BASE CAMP 14-PERSON CABIN TENT
Final Thoughts
In my experience with the Ozark Trail Base Camp 14-Person Cabin Tent, I must say that it truly leaves a lasting impression. The tent's spacious interior, high peak height, and multiple rooms create a livable and comfortable camping environment. It's a great option for those seeking ample space for family trips or group camping adventures.One of the standout features is the affordability of this tent. Considering its size and the number of features it offers, the price point is quite attractive compared to similar-sized tents on the market. It's a budget-friendly option that doesn't compromise on quality.However, it's important to keep in mind some considerations. While the tent performs well in summer conditions and provides excellent ventilation, it's not designed for heavy rains or strong winds. It's crucial to choose the right camping season and location to make the most of this tent's capabilities.In terms of setup, it's manageable with two people, and solo setup is also possible with some effort. The tent's user-friendliness could be further improved with additional pockets for storage and specific vents for enhanced airflow during rainy conditions.
Pros
Spacious and livable interior with high peak height.
Four rooms and 12 windows for privacy and ventilation.
Compact packed size for easy transportation and storage.
Affordable price compared to similar-sized tents.
Flexible room organization options.
Surprisingly easy setup process.
Cons
Not suitable for heavy rain or strong winds.
Limited storage pockets for its size.
Lack of specific floor vents for airflow during rain.
Maximum capacity may not comfortably accommodate 14 people.
Thank you for reading this review. If you have any questions or comments, please feel free to share them below. Happy camping!