The Ozark Trail 5-in-1 Convertible Instant Tent and Shelter is a one-of-a-kind system that includes two separate four-person tents, a screen house, and an instant setup fly.
Important characteristics
A system with 5 functions.
Fly/shade setup in seconds.
One-of-a-kind design.
There are two tents and two rooms.
There is a screening room included.
Incredible value.
What does the name 
5-in-1 System mean?
This is currently the only system on the market. It is a semi-instant system because the roof/fly has a pre-attached frame to which the remaining elements are attached separately.
The images below depict the most important steps to pitching this structure; the meaning of the steps will become more apparent in the text below. You notice that the fly is already attached to the frame and immediately raise them.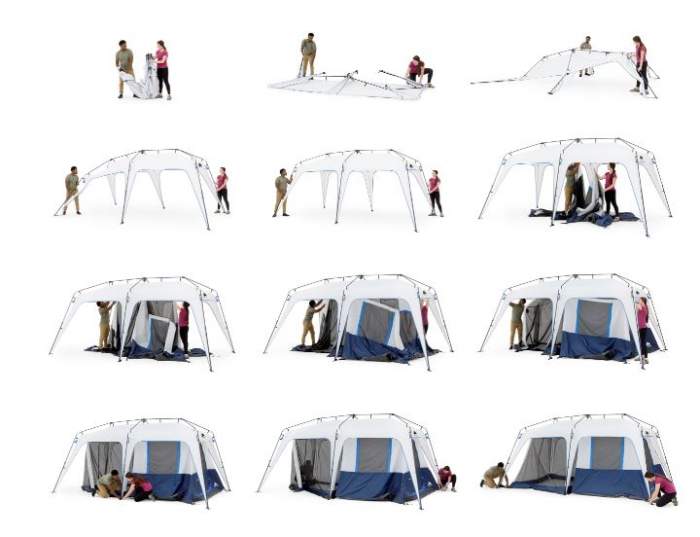 If you're perplexed by the phrase "5-in-1," here's what it means:
You now have a completely self-contained, instant-setup fly/shade.
Two separate 4-person tents are attached beneath the sunshade.
A separate screen house can be used in place of either of the two tents.
This means you can put it to use as follows:
i) As a standalone sunshade
All of the elements in the image above are already connected, so you unfold and extend its poles. This takes less than a minute.
ii) Set up two tents with the sunshade/fly above them.
The top image depicts this configuration. So you've got two separate four-person tents attached to the roof (fly). Both tents have two different doors as well as windows on all sides. In this configuration, you have a lot of privacy. But you can also walk from one tent to another, as shown here:
iii) Use any tents with a sunshade/fly above them.
In this configuration, one of the two tents is attached to the roof, and it can be either of them because the structure is fully symmetric. So this is a four-person tent with a large porch in front. That is why I included it on my list.
iv) Use any of the tents with the screen house and fly.
This setup consists of a 4-person tent and a screened-in area in front of it. This is a handy option, and it is on my list of family camping tents with a screen porch.
v) Make use of the sunshade above the screen house.
So, once again, this is a very functional picnic setup. You have a floorless 2-door screen house for insect protection and a large porch for sitting in the shade. I have every reason to include it on my list of the best screen houses for camping.
You can see why this is a 5-in-1 system now.
Materials and other characteristics
The framework is steel, and the leg poles have simple push buttons for quick setup disassembly. The fly appears polyester (but no information was provided) with a 1200 mm PU water and weather-resistant coating. The images below show some additional details, such as wall pouches and attachment buckles:
Who is it intended for?
Regarding best use, as you have already seen, this is a highly versatile item that can be used as a 4-person tent, an 8-person tent, a screen house, and so on. It can be used as an annexe-protected space alongside your family camping tent.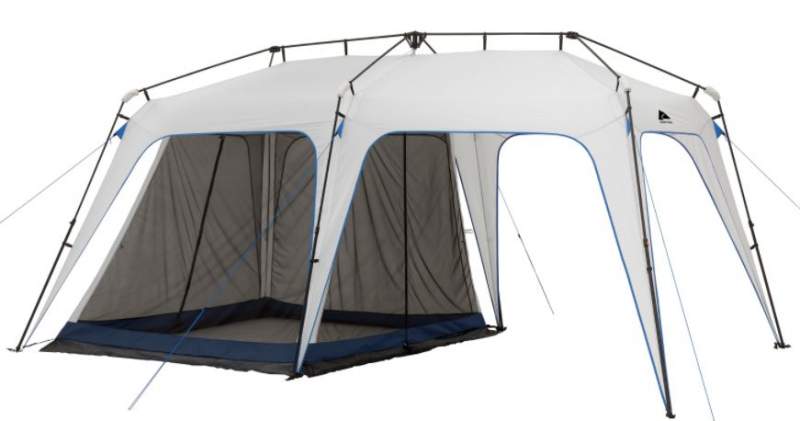 In terms of capacity, each tent can hold four sleeping pads. However, it is a system for up to 5 users for actual camping, ideal for parents with 2-3 children and two couples.
The image shows that each of the two tents can fit one queen-size bed. The screen room is big enough for two camping chairs and a small side table.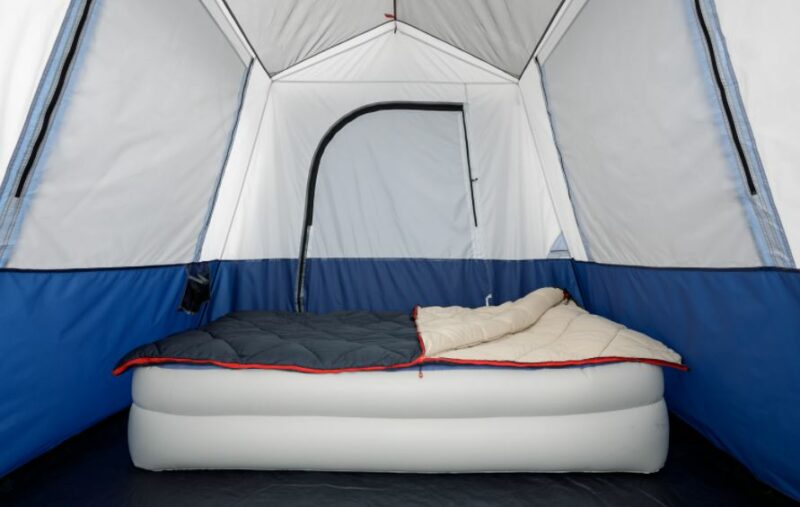 Regarding weight: This system is heavy, but there are numerous components here, and it is a very stable framework. Because this is a car camping tent, weight isn't an issue.
Specifications
Official capacity: 8 people.
Weight: 41 lb (18.6 kg).
Dimensions: 15 x 9 ft (457 x 274 cm).
Screen room size: 8 x 7 ft (244 x 213 cm).
4-Person tent size: 8 x 7 ft (244 x 213 cm).
4-Person tent area: 56 ft² (5.2 m²).
Total floor area in two tents: 112 ft² (10.4 m²).
Total floor area per person: 14 ft² (1.3 m²).
Inner peak height: 76 in (193 cm).
External peak height: 84 in (213 cm).
Packed size in the bag: 4 x 1 x 1 ft (122 x 30 x 30 cm).
Final thoughts, rating, pros and cons
Ozark Trail 5-in-1 Convertible Instant Tent and Shelter
Final Thoughts
As of the time of writing, this Ozark Trail 5-in-1 Convertible Instant Tent and Shelter is the only one on the marketplace. I'm not aware of anything comparable or as adaptable. When you consider all of its features, the price appears to be unimaginable.
Pros
Extremely adaptable.
Characteristics that are unique.
Simple to use.
Excellent value.
Cons
There are no floor vents. Heavy.
Bulky.
Heavy.
If you have any queries, please leave them in the comment section below. Thank you for taking the time to read this, and have a wonderful day.