When it comes to camping, having the right tent can make all the difference in creating a comfortable and enjoyable experience for you and your loved ones.
Today, I want to share my thoughts on the Ozark Trail 15 Person Instant Tent With 3 Rooms, a true marvel in the world of camping tents. With its vast interior space and remarkable features, this tent offers a haven in the great outdoors, providing ample room for relaxation, privacy, and family bonding.
But before we dive into the details, I want to assure you that my review will remain impartial and objective. My aim is not to endorse the tent but rather to present an honest evaluation of its features, benefits, and limitations.
So, let's embark on this journey together as we explore the wonders of the Ozark Trail 15 Person Instant Tent With 3 Rooms, and discover if it lives up to its promises.
Key Features and Benefits
The Ozark Trail 15 Person Instant Tent With 3 Rooms offers an array of impressive features and benefits:
Instant Setup: Set up in just 2 minutes.
Spacious and Divided: 3 rooms with sewn-in dividers for privacy.
Multiple Doors and Windows: 2 external and 2 inner doors, along with 6 + 2 large windows.
Awning Included: Provides a shaded outdoor area.
Excellent Ventilation: Floor vents and mesh ceiling for airflow.
Abundant Storage: Numerous pockets for organization.
Affordable: Great price for a spacious tent.
Tent Type and Design
The Ozark Trail 15 Person Instant Tent falls under the category of instant tents. With its frame pre-attached to the tent, setting it up is a breeze. Simply unfold the package, extend the telescopic legs, and you're ready to go. The convenience of instant setup makes this tent an excellent choice for those who frequently change camping locations.
Let's take a closer look at the type and design of the Ozark Trail 15 Person Instant Tent With 3 Rooms:
Cabin Style and Spacious Interior:
The tent features a cabin-style design, characterized by straightened and steep walls. This architectural choice maximizes the interior space, providing ample headroom and a feeling of openness.
The peak height of 84 inches (213 cm) ensures that even taller individuals can move around comfortably inside the tent.
Freestanding Structure:
Like most instant tents, the Ozark Trail 15 Person Instant Tent is freestanding. This means that you can pitch it on any terrain without the need for additional support.
However, it's always advisable to stake down the tent for added stability, especially in windy conditions. The tent comes with stakes and guylines to assist you in securing it properly.
Color Options and Versions
The Ozark Trail 15-Person Instant Tent is available in multiple color combinations, giving you the opportunity to choose one that matches your personal style and preference. Whether you prefer vibrant and eye-catching hues or more subdued and nature-inspired tones, there is likely a color option that will suit your taste.
Additionally, you may come across the same tent marketed under the name "Ozark Trail 15-Person Split Plan Instant Cabin Tent." Despite the different names, the versions offer similar features and functionality, ensuring a consistent camping experience.
Who is It for?
Capacity and Floor Area
The Ozark Trail 15 Person Instant Tent With 3 Rooms offers an expansive floor area, ensuring ample space for your camping endeavors.
Covering 250 square feet (23.2 m²), this tent provides a generous living space for various activities during your camping trip. Whether you need room for sleeping, socializing, or storing your gear, this tent offers plenty of space to accommodate your needs.
Accommodation Capacity:
While the tent is advertised as a 15-person tent, it's important to consider practical usage scenarios. While it can technically fit 15 people sleeping on the floor, it's worth noting that this capacity assumes minimal external storage space and limited personal belongings.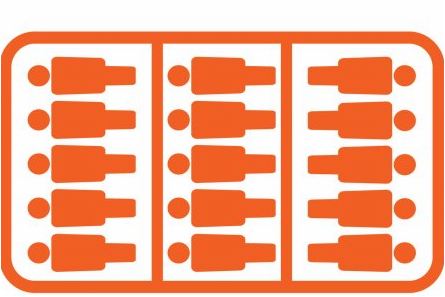 For a more comfortable experience, a realistic occupancy would be up to 5 adults or a family consisting of parents and up to 5 children. This allows for sufficient space to sleep, store belongings, and move around comfortably within the tent.
Versatile Room Configuration:
The Ozark Trail 15 Person Instant Tent features three separate rooms with sewn-in dividing walls. This allows for versatility in organizing the space based on your preferences and privacy requirements. You can create distinct sleeping areas or divide the space to suit your specific needs.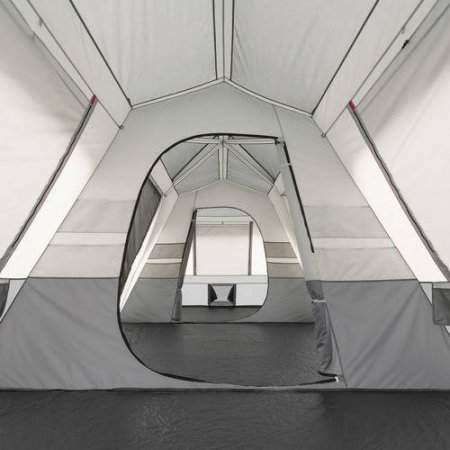 Alternative Sleeping Options:
While accommodating 15 individuals with queen-size beds may not be feasible, the tent's high and straightened walls provide an ideal environment for using bunk cots or other alternative sleeping arrangements. This maximizes the tent's occupancy without compromising comfort.
Suitability for Seasons
The tent is primarily designed for use during 1 – 1.5 seasons, with a focus on summer camping. It is best suited for mild weather conditions without significant rain or strong winds.
With its spacious interior, ample ventilation, and mesh ceiling, the tent provides a comfortable living space during warm summer months. The mesh ceiling promotes airflow, keeping the interior cool and preventing stuffiness.
Limitations in Harsh Weather:
It's important to note that the tent's design and construction make it less suitable for heavy rain or strong winds. The boxy structure and large surface area could pose challenges in windy conditions, and the minimal fly coverage leaves the tent more exposed to rain.
Therefore, it is advisable to use this tent in relatively calm and dry weather conditions.
If you require a tent for cooler environments or more challenging weather situations, it may be worth exploring alternative options.
Tents specifically designed for colder climates or with enhanced weather resistance, such as the Crua Loj 6 insulated tent or the Nemo Wagontop 6, may better suit your needs.
Instant Features for Mobile Campers
The Ozark Trail 15 Person Instant Tent With 3 Rooms is packed with instant features that make it perfect for mobile campers seeking convenience and flexibility. Here's why this tent is an excellent choice for those on the move:
Quick Setup: Setting up the tent is a breeze, thanks to its instant design. You can have it ready in no time, allowing you to spend less time on setup and more time enjoying your camping adventures.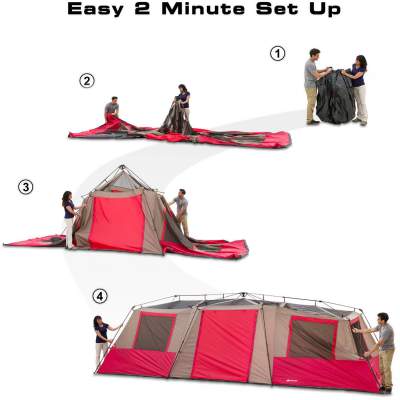 Portability: The tent's easy setup and teardown make it highly portable. If you're someone who loves exploring different campsites or going on road trips, this tent is a great companion. It can be quickly packed and unpacked, making transitions between locations smooth and hassle-free.
Ideal for On-the-Go Camping: Whether you're attending music festivals, outdoor events, or simply love camping in various locations, this tent suits your active camping lifestyle. Its instant features ensure you can set up camp wherever your journey takes you, providing a comfortable and reliable shelter wherever you go.
Construction and Materials
The construction and materials used in a camping tent play a crucial role in its durability and overall performance. Let's take a closer look at the construction and materials of the Ozark Trail 15 Person Instant Tent With 3 Rooms to assess its quality and reliability.
Durable Fabric: While specific details about the materials used are not provided, the tent is made of polyester, a common and durable fabric known for its strength and resistance to wear and tear. This fabric ensures the tent can withstand outdoor elements and continue to provide reliable shelter over multiple camping trips.
Minimal Fly Coverage: The tent's fly, the outer layer that provides additional protection against rain and UV rays, has a minimal design. It covers only the ceiling portion of the tent, leaving the walls exposed. While this design choice helps to maximize ventilation, it also means that the tent may be less suited for heavy rain or prolonged exposure to harsh weather conditions.

Mesh and Waterproof Panels: The tent's windows and doors feature a combination of mesh and waterproof panels. This design allows for proper airflow and ventilation while providing protection from insects and the elements. The mesh panels promote fresh air circulation, ensuring a comfortable interior environment.
Additional Attachment Elements
The tent is equipped with various attachment elements and hooks on the ceiling, providing convenient spots to hang lights, gear, or other accessories. These attachment points help in organizing the interior space and keeping essential items within reach.
While specific details about the tent's waterproofness rating are not provided, I will advise you to take precautions and use a separate rainfly or waterproofing treatment if you anticipate heavy rain or extended exposure to wet conditions.
Room Configuration and Convenience
The tent features three separate rooms with sewn-in dividing walls. This division creates distinct areas within the tent, allowing for privacy and organization. You can create separate sleeping quarters, designated spaces for storage or changing, or divide the space according to your specific needs.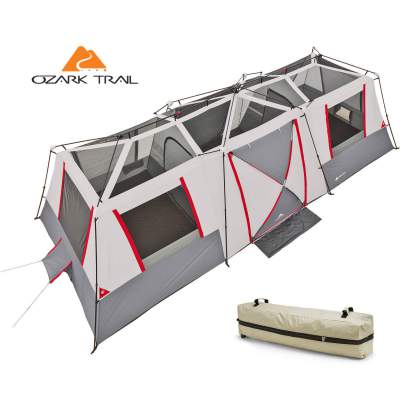 The sewn-in dividing walls not only create separate rooms but also provide a bug-proof design. These walls fully enclose the space between the rooms, ensuring privacy and keeping insects out. You can enjoy a peaceful and pest-free environment inside the tent.
The tent is designed with multiple doors, including two external double-wide doors and two inner doors. This configuration offers convenient access to each room without disturbing others. Whether you're entering or exiting the tent or moving between rooms, the multiple doors enhance accessibility and ease of movement.
Ventilation
Proper ventilation is essential for a comfortable camping experience, and the Ozark Trail 15 Person Instant Tent With 3 Rooms excels in this aspect. The tent is designed with thoughtful ventilation features to ensure fresh airflow and minimize condensation: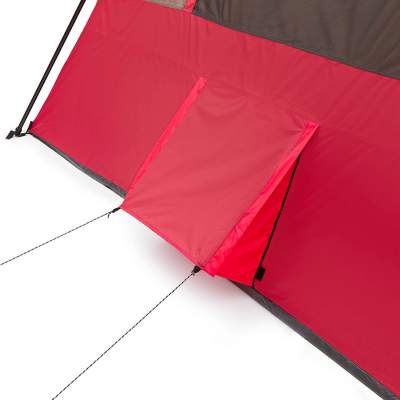 Floor Vents: The tent includes strategically placed floor vents in the side rooms. These vents allow for efficient air circulation, helping to regulate temperature and reduce moisture buildup. They contribute to a more pleasant and breathable environment inside the tent.
Mesh Ceiling: The tent's ceiling is predominantly mesh, which facilitates excellent airflow. This mesh material promotes the exchange of air, preventing stuffiness and allowing for a refreshing breeze to pass through the tent. It helps create a comfortable interior atmosphere, particularly on warm days.
Windows with Mesh Panels: The tent's windows are equipped with mesh panels, offering a balance between ventilation and protection from insects. By keeping the windows open, you can invite a gentle flow of fresh air into the tent while keeping bugs outside. The mesh panels provide an effective barrier against unwanted pests.
The combination of floor vents, mesh ceilings, and windows with mesh panels ensures continuous air circulation throughout the tent. This ventilation system helps to reduce humidity, minimize condensation, and maintain a comfortable environment, even in warmer conditions.
Organization and Storage
The Ozark Trail 15 Person Instant Tent incorporates numerous storage pockets throughout the interior. These pockets are strategically placed, offering convenient storage for personal items, small camping accessories, and other essentials.
In the central room, you'll find dual pockets on each inner wall, totaling 4 pockets per inner wall. The side rooms feature dual pockets on two walls, providing 4 pockets per room.
The placement of the storage pockets maximizes space utilization without compromising the overall living area of the tent.
Specifications and Other Features
Here is a table outlining the Ozark Trail 15 Person Instant Tent With 3 Rooms' key specifications:
| Specification | Measurement |
| --- | --- |
| Weight | 65.3 lb (29.6 kg) |
| Dimensions | 25 x 10 ft (7.62 x 3.05 m) |
| Floor Area | 250 ft² (23.2 m²) |
| Peak Height | 84 in (213 cm) |
| Packed Size | 51 x 13 x 12 in (130 x 33 x 30 cm) |
| Electric Cord Ports | 2 |
Other Features:
Carry bag included for convenient storage and transportation.
Tent stakes are included for securing the tent to the ground.
Two electrical cord ports for easy access to power within the tent.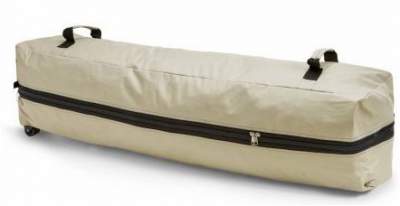 Comparison with Competitors
To provide you with a comprehensive evaluation of the Ozark Trail 15 Person Instant Tent With 3 Rooms, let's compare it to other similar tents available on the market. Here's a side-by-side comparison:
| Tent | Ozark Trail Instant 15 | Core Instant Cabin 12 | Ozark Trail Base Camp 14 |
| --- | --- | --- | --- |
| Weight (lb) | 65.3 | 52.55 | 47.96 |
| Floor Size (sq ft) | 250 | 180 | 160 |
| Peak Height (in) | 84 | 80 | 78 |
| Doors | 2 | 2 | 4 |
| Awning | Yes | No | No |
| Fly | Yes | Yes | Yes |
| Freestanding | Yes | Yes | No |
| Rooms | 3 | 3 | 4 |
| Instant Setup | Yes | Yes | No |
Final Thoughts, Rating, Pros & Cons
Ozark Trail 15 Person Instant Tent With 3 Rooms
Final Thoughts
The Ozark Trail 15 Person Instant Tent With 3 Rooms is an impressive and highly livable tent, offering a great camping experience at an affordable price. It provides ample space, functional features, and easy setup, making it an ideal choice for family camping trips.To fully enjoy the tent, it's important to use it as suggested and avoid exposing it to harsh weather conditions. By doing so, you can make the most of its spacious interior, convenient amenities, and durable construction.
Pros
Spacious and functional design
Instant setup
Good ventilation
Useful features
Affordable price
Cons
Limited suitability for challenging weather conditions
Confusing description and missing information
So that concludes my review of the Ozark Trail 15 Person Instant Tent With 3 Rooms. As you've come to realize, this tent is truly impressive and offers a highly livable camping experience. What's even better is the price tag—it's truly a great deal. Just follow my suggestions and steer clear of harsh weather situations, and you'll have an enjoyable time.
However, if this tent doesn't meet all your requirements, don't worry. There are plenty of other family camping tents out there, available in various sizes and designs. Take a look around and explore your options.
If you need something even bigger, you might want to consider the huge Ozark Trail 16-person tent with a whopping 20 square meters of inner area. And if that's still not big enough, there's the Ozark Trail 20-person tent that might just fit the bill. Additionally, check out the 3-room Wenzel Mammoth 16-Person Family Dome Camping Tent for its unique features.
Thank you for taking the time to read my review. If you have any questions or comments, please feel free to share them in the comment box below.
I wish you a fantastic day and happy camping adventures!