The Ozark Trail 11 Person 3 Room Instant Cabin Tent is a unique structure with an additional separate space at the back of the tent. Above the dual entrance doors, you also have a very helpful awning.
Key advantages and characteristics
Setup is done in an instant. Well, nearly a moment.
3 rooms.
Awnings are available.
A power outlet.
What's in a name?
So you've already got a lot in the title. This is an immediate tent with telescopic poles and the standard setup for such a tent, but there is a bit more to it due to the third room, which is discussed further below. As you would expect from a cabin-style tent, the walls are very tall and straightened.
The tent has three rooms: the main cabin with a retractable divider and an odd addition added to the back side of the main cabin body. I'll go into more detail about the 11-person capacity below.
Who is it intended for?
This is a family and group camping tent for the summer. A partition in the main cabin section and an adjoining chamber on the rear side indicate that you can have some privacy in such a space. However, this is only if you disregard the declared capacity of 11 persons.
Dimensions, capacity, and optimal application
The size 14 × 14 is indicated in the specs, signifying feet. However, this is completely false. These figures show the space required to set up this tent. This is because its floor area is T-shaped, with two independent units:
The main cabin section is 14 x 8 feet (4.27 x 2.44 m).
The private room addition is 8 x 6 feet (2.44 x 1.83 meters).
However, the tent has an awning, which requires an additional 8 x 6 ft in front of the entrance doors. This means the ground area is shaped like a plus or a cross, with two lengths of 14 and 20 feet. You don't have to utilize the awning if you need more space.
Returning to the inside gives 112 + 48 ft2= 160 ft2 (14.9 m2). So, if you used it for 11 people, each person would have 14.5 ft2 (1.35 m2). This could work if you adopt the backpacking capacity theory, but it makes no sense for true camping. Divide this number of persons by two, as mentioned in my tent capacity paragraph. This tent can accommodate up to 6 people.
You are free to arrange the space any way you see fit. You can place two queen-size mattresses on the ends, leaving enough space in between for the entrance to the back room. The back room alone can accommodate a queen-size bed. See how they think you can fit 11 people inside: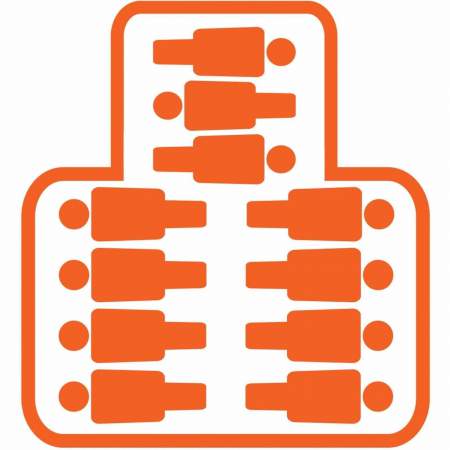 Regarding season
As previously stated, this tent is for a warmer climate, summer camping, and without much rain. This is due to i) a lot of mesh on the ceiling, which is not the best choice in a chilly climate, and ii) a minimal fly that only covers the ceiling, which is not ideal in a rainy climate.
Packing size
The packing size is typical for instant tents, with one somewhat lengthy dimension of 48 x 10 x 10 in (122 x 25 x 25 cm). As a result, you will utilize this tent in locations with car access.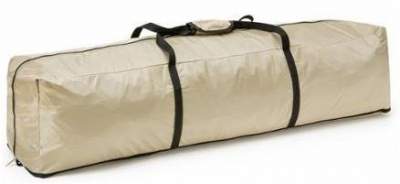 Building and materials
The inner area is already clear from the text above, so there are two rooms in the main cabin separated by a detachable barrier, plus a private room as an addition. Because there are two entry doors, the divider attaches in the middle between them, and each room in the cabin section has its own door.
You can enter the back private area from any front room with the barrier. A large double-sized door with two zippers can be opened from either of the two front rooms. The back room lacks an external door, but a window is on the back wall, as shown in the picture. This is why I've included it on my list of camping tents with closets.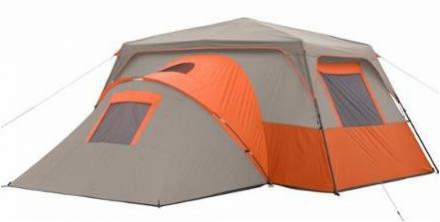 Awning in front
You have the awning, which makes a nice sitting area in front of the main entry doors and is around 8 × 6 ft (2.44 x 1.83 m).
The tent has two poles for the awning with grommets to secure the awning and poles with guylines and stakes. When not in use, the awning can be pulled up and secured over the front doors.
The private room issue, whether instant or not
The main cabin is, in fact, a pop-up tent. However, this does not apply to the remainder of the framework, and you have a hybrid structure here. You have an extra pole for the back private room that you plug into the sleeve and use to lift the back room off the ground.
If you don't need the back room or don't have enough ground space in the camp, you can leave it as is. It is pre-attached to the main cabin component, so roll it as far as you can and keep it near the cabin wall.
Rainfly and other materials
The material is polyester, but no information about the waterproof rating is provided. It's probably around 600-800 mm.
There needs to be more information on the floor. However, it appears to be polyethylene. It features a catenary cut design. The poles are steel and telescopic.
You add the main fly separately for the cabin section. The back room has a built-in fly, so this area has no extra work.
Setup
They mention two minutes for setup, which is partially correct, but only for the main cabin. Adding the fly and setting up the back room will take a few more minutes, but it is really simple. These images describe the procedure: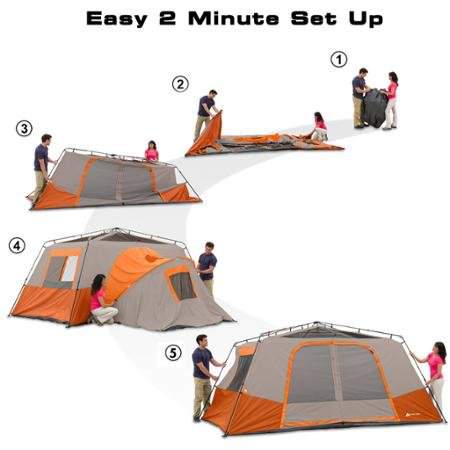 Ventilation
You have two huge mesh windows on the sides (with panels for privacy and protection from rain) and two windows on the front doors (with mesh and panels). The ceiling is all netting, as is customary for all Ozark Trail tents (but see some of their dark rest tents). In cases where there is no rain, this should suffice.
However, there are no floor vents here, which is inconvenient if you have to keep the window panels closed. Such floor vents would aid with vertical airflow.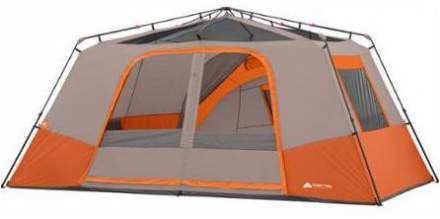 Inner characteristics
The divider is a drape that attaches to the ceiling and walls via toggles, as shown in the image below, to provide minimal seclusion. The private room offers much more privacy, hence the name. If you don't need it closed, you can attach its wall to the cabin walls on the side, as seen in the image below.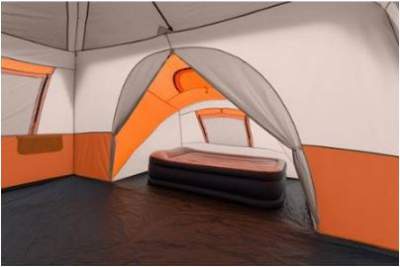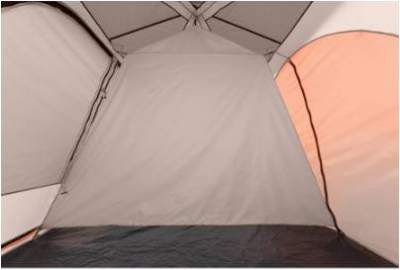 There is also an electric cable port. As shown in the photo below, I found a few very small pockets on the wall to be completely inappropriate for such a large tent built for 11 people. Check out the Big Agnes Flying Diamond 6 tent, which has 16 large compartments (enough for 6 people). As indicated below, there is a lantern hook in the center.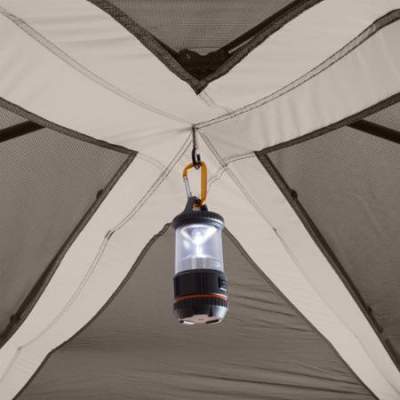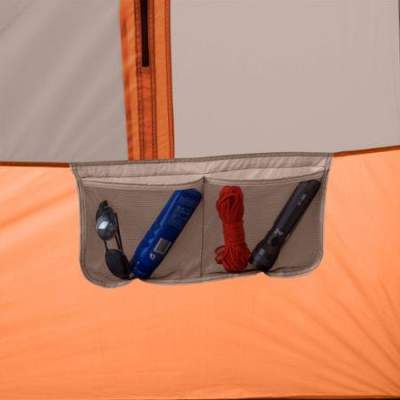 Specifications
Type: cabin & instant tent.
Weight: 33 lb (15 kg).
Dimensions: 14 x 14 ft (4.27 x 4.27 m) – this is the only ground size needed for the tent.
Floor area: 160 ft² (14.9 m²).
Area per person: 14.5 ft² (1.35 m²).
Peak height: 76 in (193 cm).
Packed size: 48 x 10 x 10 in (122 x 25 x 25 cm).
Final thoughts, rating, pros & cons
Ozark Trail 11 Person 3 Room Instant Cabin Tent – With Private Room
Final Thoughts
In conclusion, of our Ozark Trail 11 Person 3 Room Instant Cabin Tent review, I highlight two of its primary advantages: the back room, which is a very handy space, and the awning. The fast setup is also highly beneficial and appropriate for people who regularly change their camping location. However, as you can see, I have some reservations about the interior amenities required for comfort, such as the lack of floor vents and useless wall pockets. The tent is intended for summer camping, and I would not subject it to rigorous testing. The price is reasonable, so this is a good alternative if you need a tent for occasional use in moderate weather. Check out my rating.
Pros
The setup is simple.
There are two external doors.
It's quite habitable, thanks to four large windows.
Awning as a bonus.
Extra private room.
Excellent value.
Cons
Awful description.
Not suitable for heavy rain.
There are no floor vents.
The declared capacity is insufficient.
There aren't enough pockets.
Please use the comment box below if you have any queries or remarks. Have a wonderful day.