Hi there! This blog post is all about the Ozark Trail Instant Cabin Tent with Built-in Cabin Lights. It's a really cool tent that you can use for camping in the summer with your family and friends. It has a lot of features that make it easy to use and comfortable to sleep in.
When you go camping, you need a good tent that will keep you safe and dry. The Ozark Trail Instant Cabin Tent with Built-in Cabin Lights is perfect for this. It's big enough for 10 people to sleep in, and it has two rooms and two doors. It's also really easy to set up and has a special light system built-in that makes it easy to see at night.
In this blog post, I'm going to tell you all about the features of the Ozark Trail Instant Cabin Tent with Built-in Cabin Lights. I'll explain how it works, what it's made of, and what makes it a great choice for your next camping trip. So, get ready to learn all about this awesome tent!
Key Features & Benefits
Let's start with the specifics that make the Ozark Trail Instant Cabin Tent with Built-in Cabin Lights a fantastic choice for your outdoor adventures. It's packed with features that enhance your camping experience, making it feel like a home away from home.
Screen Room: If you love the feeling of being immersed in nature without the annoyance of pesky insects, you'll appreciate the screen room feature. It allows you to enjoy the breathtaking views and fresh air while keeping the bugs at bay.
Instant Setup: This tent is designed for instant setup. It's as easy as unfolding and extending the pre-attached poles. You'll have your tent up and ready in about two minutes!
Lighted Tent: One of the standout features of this tent is the built-in cabin lights. These ambient LED-lighted poles provide ample light throughout the tent, eliminating the need for additional lanterns or flashlights.
Steel Frame: The tent's steel frame ensures stability and durability, so you don't have to worry about it collapsing or getting damaged by winds.
E-cable Port: In today's digital age, having access to electronic devices even while camping is often necessary. This tent thoughtfully includes an E-cable port for safely running power into the tent.
Media Pocket and Gear Storage System: Keep your tent neat and organized with the media pocket and gear storage system.
2 Doors and 7 Windows: The tent includes two large doors and seven windows, all designed with double-layer structures for protection, privacy, and ventilation.
Great Price: Despite the wealth of features and benefits, this tent comes at a fantastic price. It's a great value for money, making it an excellent choice for both novice and experienced campers alike.
Where to Buy
Excited about the Ozark Trail Instant Cabin Tent with Built-in Cabin Lights and can't wait to get your hands on one? Well, you're in luck. This tent is readily available online and can be shipped right to your doorstep.
Amazon: One of the most convenient places to purchase this tent is on Amazon. Just look up the name mentioned in the title, and you'll find it listed. The beauty of shopping on Amazon is the multitude of reviews you can read to further reinforce your decision.
Walmart: If you prefer shopping at Walmart, you'll be pleased to know that they also carry this tent. It's listed under the name Ozark Trail 10-Person Instant Lighted Cabin Tent. Walmart is an excellent choice for those who want to leverage their existing accounts or are seeking alternative shipping options.
Now that we've covered where to get this tent let's delve into a more detailed understanding of what this tent truly is.
What Type of Tent is This
Let's take a closer look at the Ozark Trail Instant Cabin Tent with Built-in Cabin Lights to truly understand its structure and type. This tent is a veritable wonder when it comes to its design, making it a unique choice for campers.
Cabin Style Tent
At first glance, it's a cabin-style tent, which means it has steep, straight walls, much like a cabin. This design gives you maximum space and headroom, so you never feel cramped. The tent boasts a peak height of 78 inches (198 cm), which should be more than adequate for most people.
Instant setup Design
But the features that make this tent stand out are its instant setup design and the preattached frame. Can you believe the setup time is just about two minutes?
Yes, that's right! With the frame already attached to the tent, all you need to do is spread the tent and extend its telescopic poles. While one person can manage this, having a buddy will make it even easier. And yes, you need to add the fly, so an extra pair of hands would be beneficial.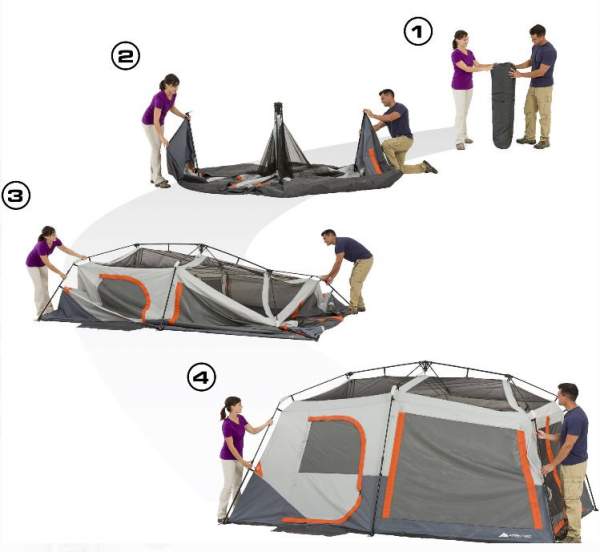 Freestanding
This tent is freestanding, meaning it's self-supporting and stable without the need for ropes or stakes. But don't let that stop you from using the included stakes and guylines to secure it properly. After all, we want your camping experience to be fun and worry-free!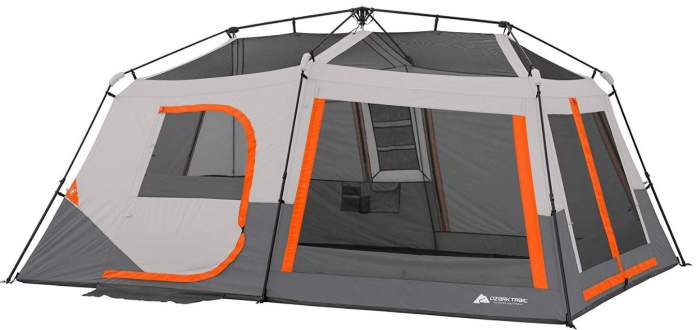 The tent is equipped with two large doors and seven windows, providing excellent ventilation and easy access. Each of them is a double-layer structure with mesh and zippered panels. This means you have the flexibility of enjoying the breeze and views, while also having the privacy and protection you need.
Screen Room or Not
There has been some chatter and confusion around the screen room feature of the Ozark Trail Instant Cabin Tent with Built-in Cabin Lights. Let's clear the air on that one.
This tent is actually a two-room structure. It has a back room that comes with its own side door, giving you privacy and easy access. There's also a removable divider, so you have the flexibility to turn the tent into a single large room if you'd like.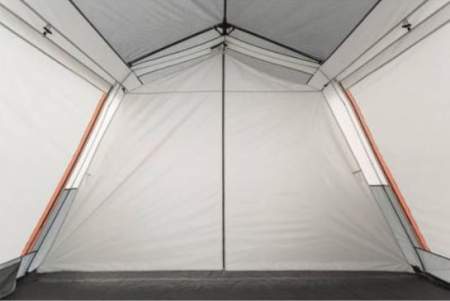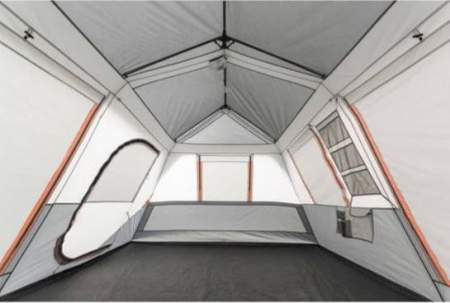 The Front Room
Now, let's talk about the front room. This space is equipped with a large, inverted-T-shaped door that has zippers at the bottom and in the middle. It's a fully floored area, and its side walls are double-layered with mesh and zippered panels.
This means it can offer you full protection just like the back room, but it can also be converted into a pleasant screen room when you want to connect with nature.
So, what's a screen room? Well, different people may have different interpretations. In my view, a screen room is an area that allows you to enjoy the outdoors without dealing with bugs or harsh weather elements. In that sense, the front room of this tent fits the bill perfectly. But it also offers you the flexibility of a fully protected room when you need it. Hence, I'd say it's more than just a screen room.
Lighted Tent
Are you ready to light up your camping nights? The Ozark Trail Instant Cabin Tent with Built-in Cabin Lights is going to add a unique twist to your camping experience with its special feature – ambient LED-lighted poles.
Yes, you heard it right! This tent comes with built-in lighting, thanks to the LED-lighted poles. This means you no longer have to fumble around with a flashlight or worry about hanging lanterns.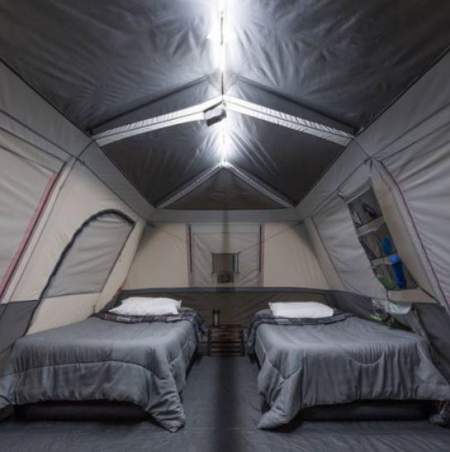 The LED lights offer sufficient illumination throughout the tent, making it incredibly convenient when the sun goes down.
What's more, you get to control the intensity of the light. With low, medium, and high settings, you can adjust the light to suit your needs. Whether you want a bright light for a game of cards or a dim light for a peaceful sleep, you can have it all.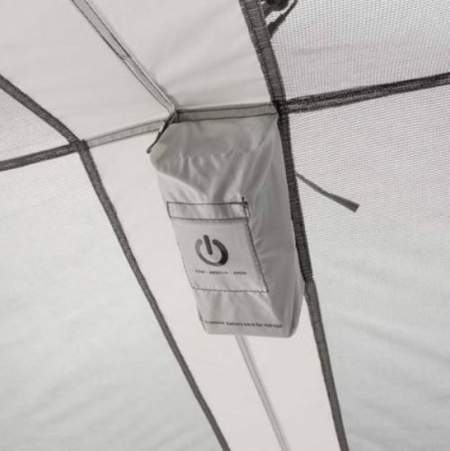 The system operates on 4 D batteries, so make sure to pack some in your camping gear.
Materials & Other Features
Quality materials and additional features can truly elevate a camping experience, and the Ozark Trail Instant Cabin Tent with Built-in Cabin Lights is not one to disappoint. Let's take a closer look at what it's made of and what it offers.
The Structure and Durability:
Starting with the frame, it's constructed with steel poles. This makes the structure robust and stable, ensuring your tent stands strong against the elements. To further reinforce this, the package also includes 13 steel stakes.
The Fabric:
The tent material is a 190T coated polyester. While they haven't specified the waterproof rating, many users have reported that the tent holds up well even in strong, prolonged rains. All seams are taped for extra protection against water leakage. However, as with any camping gear, I recommend checking the weather forecast and preparing accordingly.
Ventilation:
Ventilation is a key factor for a comfortable camping experience, and this tent has got you covered. With plenty of mesh around and a large vent on one side, you can enjoy a fresh breeze and prevent condensation build-up.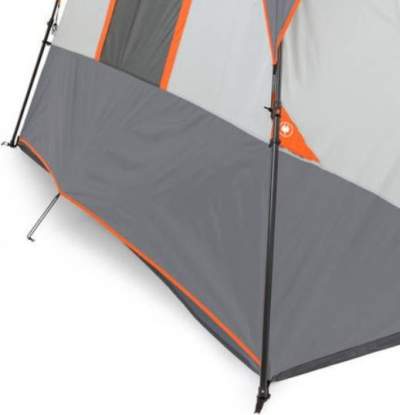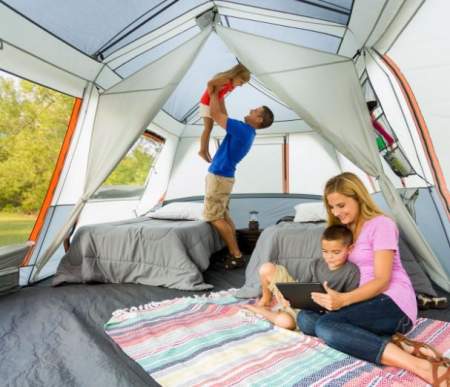 Even if you need to close all the windows and doors, the mesh on the ceiling coupled with the side vent should create enough vertical air circulation to keep you comfortable.
Additional Features:
Cable Port: The tent includes a cable port, making it easy for you to power up your electronic devices.
Media Center: A media center is included, ensuring your electronics are safe and organized.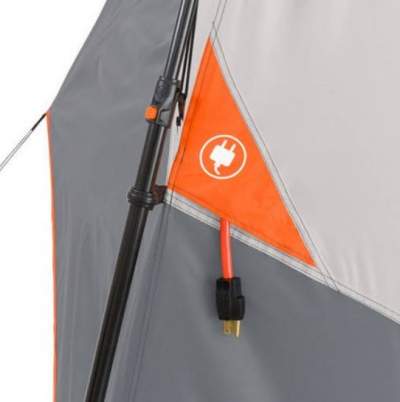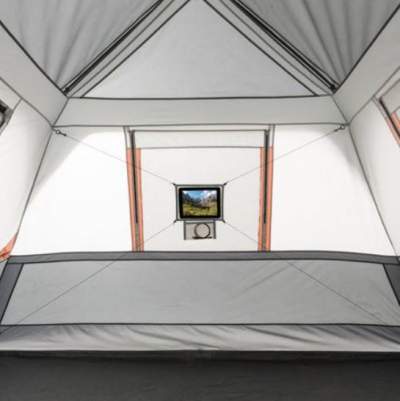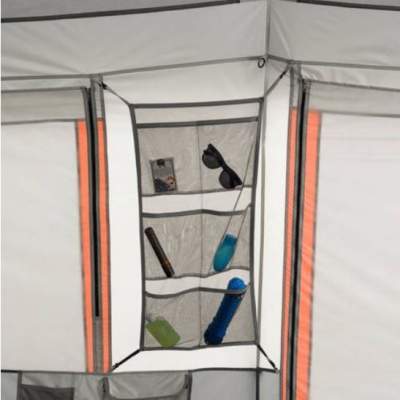 Removable Storage Organizer: Keeping your belongings organized and easy to find becomes easier with the removable storage organizer.
Storage Pockets: There are two storage pockets on the walls for your smaller items.
Carry Bag: A carry bag is included for easy transportation and storage.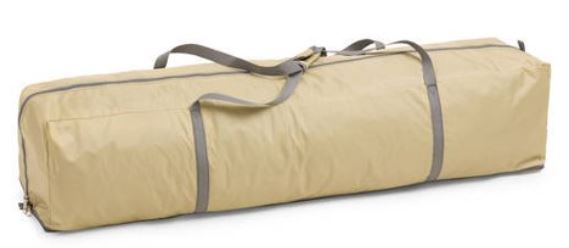 Who is it for?
Understanding the Capacity:
When we consider who this tent is best suited for, we should first look at its stated capacity. The manufacturers claim that the Ozark Trail Instant Cabin Tent with Built-in Cabin Lights can accommodate up to 10 people.
However, with a total area of 140 ft² (13 m²), I believe it's important to consider the comfort and personal space of each camper. While it is technically possible to fit 10 sleeping pads on the tent's fully floored surface, it might be a bit of a tight squeeze.
For a group of friends on a summer festival adventure or a similar activity, this could work out perfectly. However, if you're planning a family camping trip, I would recommend halving this number for a more comfortable experience. This way, each person has ample space for themselves and their belongings.
Suitability for Seasons and Climates:
In terms of its suitability for different seasons and climates, this tent is ideal for summer camping in areas with calm weather conditions. Its tall and boxy structure may not fare well in heavy winds, so it's best to set it up in a sheltered area. Some users have reported using it in winds of up to 50 mph, but it's always better to be cautious.
The tent features plenty of mesh, which is great for warm climates as it allows for excellent ventilation. However, in colder climates, the mesh on the ceiling could make the tent's interior rather chilly, so I wouldn't recommend this tent for camping in cold weather.
The tent's minimal fly only covers the ceiling and, although the windows and doors have protective panels, the tent is best used in areas without heavy rainfall. There's no specified waterproof rating, but users have reported that it holds up well under rain.
Considerations for Weight and Transportation:
Regarding the weight, the tent clocks in at 32.6 lb (14.8 kg), which is a typical weight for a tent of this size with steel construction. It's not what you'd call a lightweight tent, but it's manageable for car camping.
The packed size isn't particularly compact, but this is common for instant camping tents with telescopic poles.
Ozark Trail Instant Cabin Tent with Built-in Cabin Lights: Key Specifications
The table below provides a quick overview of the key specifications of the Ozark Trail Instant Cabin Tent with Built-in Cabin Lights. This should give you a clear understanding of what to expect from this tent in terms of size, capacity, weight, and warranty coverage.
| Specification | Detail |
| --- | --- |
| Declared Capacity | Accommodates up to 10 people |
| Weight | 32.6 lb (14.8 kg) |
| Dimensions | 14 x 10 ft (427 x 305 cm) |
| Area | 140 ft² (13 m²) |
| Peak Height | 78 in (198 cm) |
| Packed Size | 45 x 10 x 9 in (114 x 25 x 23 cm) |
| Warranty | 6-Month limited warranty |
The Ozark Trail Instant Cabin Tent with Built-in Cabin Lights comes with a 6-month limited warranty. This is essentially a guarantee from the manufacturer that the tent will be free from defects in material and workmanship for a period of six months from the date of purchase.
Final Thoughts, Rating, Pros & Cons
Ozark Trail 10 Person Instant Cabin Tent with Built-in Cabin Lights
Final Thoughts
My experience with the Ozark Trail Instant Cabin Tent with Built-in Cabin Lights was mostly positive, but there are a few drawbacks to consider. Setting up the tent was quick and easy, and the built-in cabin lights were a great addition. The screen room kept insects away, and the ventilation was excellent. However, the tent's claimed capacity of 10 people felt cramped, and the packed size was a bit bulky for transportation. While the tent held up well in calm weather, it may struggle in heavy winds. Despite these drawbacks, it remains an affordable and reliable option for summer camping trips. Happy camping!
Pros
Affordable
Durable with steel poles
Quick setup
Ample height and space
Built-in lighting system
Cons
Bulky when packed
Capacity might be overstated
The tent is available for purchase on Amazon and Walmart. Also, consider checking out the Columbia Mammoth Creek 10-Person Cabin Tent and OT QOMOTOP Tent 10-Person for comparison.
I hope this review helps you make an informed decision. Should you have any questions or comments, feel free to drop them below. Happy camping, and remember – the best memories are often made outdoors!