The Kelty Discovery 6 Tent shown here is the latest iteration of a tent that has been on the market for some years. This is a straightforward dome with two fibreglass poles, one door, and a full-coverage fly.
Key features and advantages
Quick-Corner Kelty design.
Full-body coverage.
1 Door.
Poles made of fibreglass.
Excellent value.
What is the purpose of this Kelty Discovery 6-Person Tent?
This is the updated version of Kelty's tent that has been on the market for some years, and as far as I remember, it was only available at REI. The same is true even with this new edition that appeared for the 2020 season; I cannot get it from any other seller.
It's worth noting that they also sell the Kelty Discovery Element 6 Tent, a dome tent that is still distinct from the one seen here.
So, once again, this is a simple dome design supported by just two poles. The image below shows it without the fly, and in this configuration, it is completely standalone, allowing you to move and spin it.
Aside from the new colours, the Quick Corner design is another feature. This is a new feature they were implementing in their 2020 tents. It's on display in their Kelty Wireless Tent 6 Person. The image below depicts how this appears.
Regardless of the traditional grommets or pin and ring arrangement, you get thin pockets in the corners. You insert the pole end into the bag and then go to the opposite side. This simplifies installation because the pole's future will not protrude as it commonly does with grommets. The job is simple enough for one person to complete. After inserting the poles into the pockets, continue attaching the canopy with its clips.
Not freestanding
The fly is full-coverage; the image below illustrates how the tent looks with the fly on and the vestibule closed. Note that this is the lone vestibule, corresponding to the only entrance you have here. Having a vestibule is a plus because it gives some extra storage space, specifically 25 ft2 (2.3 m2), but technically, the tent is not freestanding with it, even though they claim it is.
The tent is reasonable, with a peak height of 69 inches (175 cm). However, the inner volume and shoulder width are limited because this is a basic dome.
Ventilation
The roof of this tent has lots of mesh, and the picture above illustrates adequate space between the ground and the fly for air circulation. However, as shown in the image below, they have installed fly vents to allow vapour to escape. So everything is done well, and there isn't much to complain about; after all, you can't expect much more from a dome tent.
Materials
The poles are shock-corded fibreglass with only two poles, making everything simple. The diameter is between 11 and 12.7 millimeters. This is not a particularly durable substance, and it must be handled with care, or it may break and split.
The fabric: The canopy's fabric is a blend of 68D polyester and mesh. The same material is used for the floor and the rainfly, but this one has an 1800 mm waterproof rating thanks to a coating. All seams are taped at the factory. Colour coding is in place for easier setup, as shown in the image below.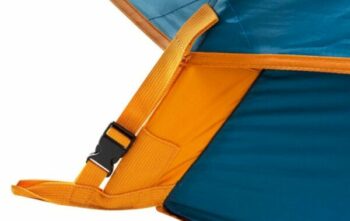 Other features include quality stakes and guylines with storage pockets (like the one pictured above). There are also some wall pockets and a night light pocket on the ceiling. The carry bag below has a shark mouth duffle design, making it simple to pack the tent.
Who is it intended for?
In terms of capacity, this is a 6-person tent with 97.5 ft (9 m2) of inside space and 25 ft2 (2.3 m2) under the vestibule. So, while this is okay, limiting the number of users to no more than four is preferable.
In terms of climate and seasons, because there is so much mesh on the canopy, it is preferable to avoid cold environments and use this tent for up to two warm seasons. It is marketed as a three-season tent, and while it can be used in that capacity, it will not keep you warm when it is chilly outdoors.
The tent is reasonably tall and aerodynamic, so that it will perform well in windy conditions. In such situations, full-fly dome tents are the ideal option. The waterproof rating is adequate, and you will never require more. As a result, no matter where you use it, this tent will keep you safe.
In terms of weight, this is a lightweight tent at 15 lb 4 oz (6.9 kg), although there are lighter models with the same carrying capacity. The packaged dimensions (L x D) are 30 x 9 inches (76 x 23 cm). So this is a camping tent for regions where you can drive.
Specifications
Official capacity: 6 people.
Weight: 15 lb 4 oz (6.9 kg).
Dimensions: 130 x 108 in (330 x 274 cm).
Inner area: 97.5 ft (9 m²).
Inner area per person: 16.25 ft² (1.5 m²).
Vestibule area: 25 ft² (2.3 m²).
Total covered area: 122.5 ft² (11.3 m²).
Peak height: 69 in (175 cm).
Packed size (L x D): 30 x 9 in (76 x 23 cm).
Final thoughts, rating, pros & cons
Kelty Discovery 6 Tent (New Tent Version)
Final Thoughts
In summary, the Kelty Discovery 6 Tent offers a straightforward dome structure and reliable waterproofing, ensuring protection in various environments. While the fiberglass poles are not the tent's strongest feature, they are commonly found in budget-friendly options. Considering the reasonable price and the brand's longstanding reputation, this tent delivers excellent value.
Pros
Complete security.
Simple to use.
Excellent value.
Cons
Fiberglass poles.
There is only one door.
Thank you for taking the time to read this. If you have any thoughts or queries, please use the comment box below. Have a wonderful day.