The KAZOO Family Camping instant cabin tent is designed with the utmost care, featuring a full-coverage fly, high waterproof rating, and sturdy aluminum poles. Whether you're embarking on a summer camping adventure or exploring the great outdoors with your family, the KAZOO tent is here to meet your needs.
Key features & benefits
Instant tent – 30 seconds setup.
Aluminum poles.
Cabin-style tent.
Awning configuration.
2 Fly windows.
2 Huge doors.
Tall tent.
Very good price.
What this is about
An Impressive Addition to the Saturn Series:
Step into the world of the KAZOO Family Camping Tent, the larger sibling in the esteemed Saturn series of cabin-style tents. This tent brings with it a myriad of impressive features that are sure to elevate your camping experience to new heights. Among its standout qualities is the highly acclaimed instant setup capability, allowing you to have your tent pitched and ready for adventure in a mere 30 seconds. What's more, this remarkable feat can be achieved by just one person, making it an ideal choice for solo adventurers or families seeking efficiency and convenience.
Unveiling the Instant Design:
Prepare to be amazed by the ingenuity of the KAZOO tent's instant setup design. Unlike traditional tents that require arduous assembly processes, this tent boasts a seamlessly integrated frame that is permanently attached to the tent fabric. This means that setting up the tent is as simple as spreading it out, unfolding it, and extending the four leg poles. The entire process is streamlined for efficiency and ease, allowing you to focus on enjoying your camping experience to the fullest. Moreover, the tent's top features a thoughtfully designed hub element where the four roof poles converge, adding stability and structural integrity to the tent's overall framework. It's this ingenious instant setup design that firmly places the KAZOO tent among the best in the realm of instant camping tents.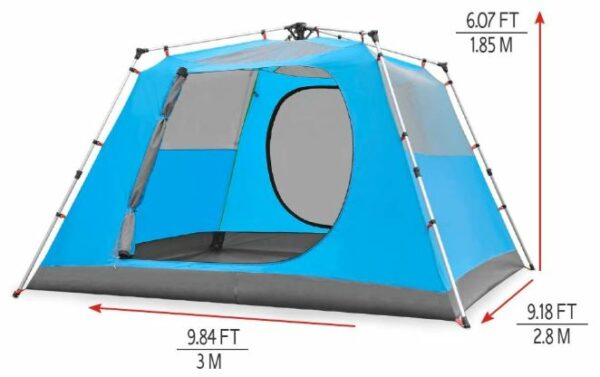 Embrace the Freedom of Freestanding Design:
The KAZOO tent not only offers swift setup but also grants you the freedom of a fully freestanding design. This means that once the tent is raised, you have the flexibility to rotate and reposition it according to your preferences, even after attaching the fly. Such versatility allows you to take advantage of picturesque views or rearrange your campsite layout effortlessly. However, it's important to note that while the tent is freestanding, it's essential to secure it properly to the ground for optimal stability. To ensure your peace of mind, the KAZOO tent package includes 18 stakes, enabling you to firmly anchor the tent and fortify it against unpredictable weather conditions or unexpected gusts of wind. With its sturdy foundation, the tent stands ready to provide you with a secure and reliable shelter throughout your outdoor escapades.
A Spacious Retreat:
Prepare to be welcomed into a realm of space and comfort as you step inside the KAZOO tent. With its impressive peak height of 72.83 inches (185 cm), the tent offers nearly stand-up height, allowing you to move around with ease and freedom. No more hunching or crouching in confined spaces; the KAZOO tent generously provides you with ample headroom and vertical clearance. Furthermore, the tent's straight and steep walls maximize the available interior volume, creating a roomy sanctuary where you can relax, socialize, or even set up additional sleeping arrangements. This thoughtful design ensures that you have abundant space to accommodate your camping gear, personal belongings, and fellow campers, enhancing the overall comfort and livability of the tent.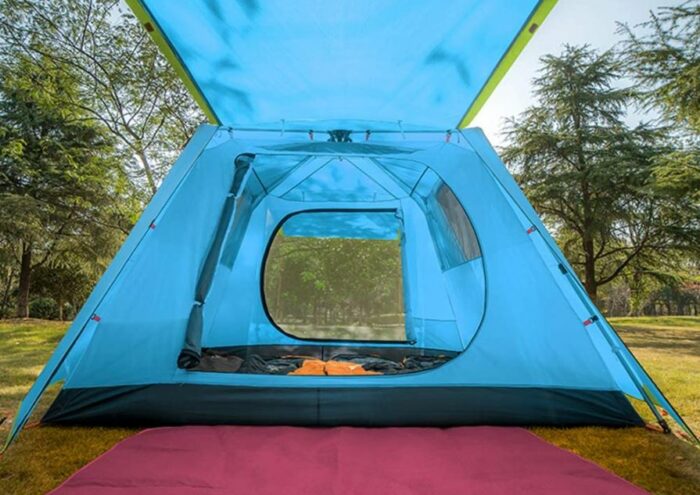 Easy Access and Full Coverage Fly:
Ease of access and protection from the elements are paramount considerations in any camping tent, and the KAZOO tent excels in both regards. Featuring two large D-shaped doors positioned on opposite sides of the tent, entry and exit are a breeze, eliminating the need for awkward maneuvers or disrupting your tentmates. But what truly sets the KAZOO tent apart is its full-coverage fly, a rarity among cabin-style tents. While most tents with full coverage fly options are typically dome-shaped, the KAZOO tent boldly defies convention by providing a cabin-style tent with this sought-after feature. The full-coverage fly
Materials:
Impressive Aluminum Poles:
The KAZOO Family Camping Tent stands out from the competition with its exceptional frame constructed from 19 mm diameter 6065 aluminum poles. These poles are truly remarkable, offering superior strength and durability. It's uncommon to find tents in this category equipped with such high-quality poles, making the KAZOO tent a standout choice. Despite its affordable price, the tent goes above and beyond by incorporating these impressive aluminum poles, ensuring a sturdy and reliable structure that can withstand the test of time and outdoor elements. With KAZOO's commitment to using top-notch materials, you can trust that these aluminum poles will provide unwavering support throughout your camping adventures.
Exceptional Rip-Stop Polyester Fabric:
When it comes to the fabric used in the KAZOO tent, prepare to be impressed once again. Crafted from 210T rip-stop polyester, this tent offers outstanding durability and performance. The material is not only robust but also features a remarkable waterproof rating of 3000 mm. This means that even during heavy rain showers, the tent will keep you dry and protected. The same high-quality polyester fabric is utilized for the tent's floor, ensuring consistency and reliability throughout. Additionally, all the seams of the tent are meticulously taped to create a watertight barrier, preventing any moisture from seeping into the interior. With KAZOO's dedication to using quality materials, you can be confident that the tent's fabric will withstand the elements and provide a comfortable and dry camping experience.
Additional Features:
The KAZOO tent doesn't stop at exceptional poles and fabric. It also incorporates a range of additional features to enhance your camping experience.
Wall Pockets: The tent includes several wall pockets positioned above the floor. These pockets offer a convenient storage solution, allowing you to keep small items organized and within reach. Whether it's your phone, flashlight, or other personal belongings, the wall pockets ensure easy access and help maintain a clutter-free interior.
Carry Bag: Convenience is key, and the KAZOO tent understands this. The tent comes with a practical carry bag, making transportation and storage a breeze. Designed with portability in mind, the carry bag ensures that you can easily pack up your tent and take it with you on your outdoor adventures.
Guylines: Stability is paramount, especially in challenging weather conditions. To enhance stability and secure your tent, the KAZOO tent package includes 10 guylines. These guylines can be used to anchor the tent, providing added support and minimizing movement during gusty winds. By using the guylines effectively, you can ensure that your tent remains steadfast and provides a safe shelter in various outdoor environments.
Stakes and Mallet: The package also includes 18 stakes and a mullet. These essential tools enable you to properly anchor your tent to the ground, ensuring maximum stability and resistance to external forces. The stakes firmly secure the tent, preventing it from shifting or lifting during windy conditions. The mullet serves as a handy tool for hammering the stakes into the ground, making setup and takedown hassle-free.

Ventilation:
A well-ventilated tent is essential for a comfortable camping experience, and the KAZOO Family Camping Tent has you covered. With its thoughtful design, this tent offers efficient airflow and breathability to ensure a refreshing environment inside.
The KAZOO tent features two generously sized mesh doors, strategically positioned on opposite sides. Additionally, you'll find ample mesh paneling on the ceiling and sides of the tent. These mesh elements allow for optimal air circulation, preventing stuffiness and creating a breathable atmosphere inside. Not only do they facilitate airflow, but they also provide panoramic views of the surrounding nature, connecting you with the outdoors even while you're inside the tent.
While the mesh doors and panels are perfect for clear skies, the KAZOO tent is equipped to handle rainy periods as well. The full-coverage fly extends all the way to the ground, providing protection against rain and moisture. Despite the comprehensive coverage, there is still sufficient space for air circulation from below.
To adapt to changing weather conditions, the tent's fly features two windows of its own. These windows can be opened or closed as needed, allowing for further customization of the tent's ventilation. During light rain or when a gentle breeze is present, rolling up the fly windows enables increased airflow without compromising protection from the elements. This versatility ensures that you can adjust the tent's ventilation to suit the specific weather conditions, maintaining a comfortable and airy interior.
During rainy periods, it's important to close all the openings to keep the interior dry. However, it's worth noting that the KAZOO tent lacks a dedicated fly vent. While the tent's design effectively protects against rain, the absence of a fly vent means that the tent may experience reduced airflow during rainy weather.
Who is it for
Consideration of Space:
While the KAZOO Family Camping Tent is marketed as a 6-8 person structure, it's important to evaluate the actual space available. The floor area measures only 90.3 ft² (8.4 m²), which is comparable to the space offered by a 6-person tent such as the Columbia Mammoth Creek 6 Person Cabin Tent. Placing 8 sleeping pads on the floor, as suggested by the manufacturer, would result in a cramped setup, with just 11.29 ft² (1.05 m²) of space per person. This arrangement would only be suitable for children. Even with 6 users, the space per person would still be limited, with just 15 ft² (1.4 m²) available. Consequently, it's clear that the KAZOO tent is better suited for smaller groups.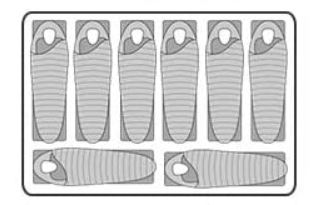 Recommended Capacity:
Considering the space constraints, the KAZOO tent is best utilized by a maximum of 4 people. This ensures a more comfortable and spacious camping experience. It provides ample room for a couple or parents with 1-2 small children, allowing everyone to have their own sleeping area and sufficient space for personal belongings. By accommodating fewer occupants, the tent ensures a cozy and intimate camping atmosphere, perfect for bonding and relaxation.
Weight and Packed Size Considerations:
The KAZOO tent may have a slightly heavier weight compared to other models, primarily due to the sturdy aluminum poles and durable fabric used in its construction. However, this weight is justified by the added stability and strength these materials provide. It's worth noting that the tent's weight is less of a concern for car camping, where transportation distances are shorter and weight limitations are less stringent. As for the packed size, the tent does extend to a longer length when packed, measuring 48 x 7.8 x 7.8 inches (122 x 20 x 20 cm). This is a common characteristic of instant tents with telescopic poles, as the overlapping sections are necessary for structural integrity. While the packed size may be a consideration for backpackers or those with limited storage space, it remains manageable for car camping trips.
Climate and Seasonal Suitability:
The KAZOO tent is well-suited for warm-weather camping excursions. Its abundant mesh features, including the mesh doors, ceiling, and sides, ensure excellent ventilation and airflow. This design facilitates a comfortable interior by allowing cool breezes to circulate and preventing the buildup of heat and stuffiness.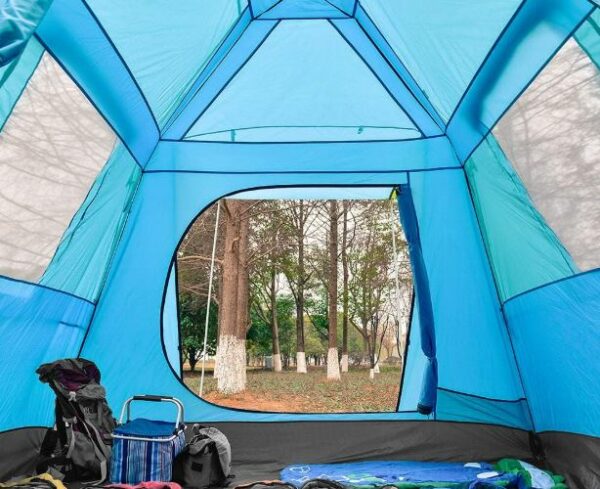 However, it's important to note that the tent may not be the optimal choice for colder climates or extreme weather conditions. While the fly provides full coverage and offers high waterproof protection, the absence of a dedicated fly vent means that in periods of rain, it's necessary to close all the openings, potentially reducing airflow.
Nonetheless, the tent's strong and stable frame, combined with its ability to seal against drafts, ensures its reliability even in windy conditions. Overall, the KAZOO tent is a fantastic choice for 3-season camping adventures.
Specifications
| Specifications | Values |
| --- | --- |
| Declared Capacity | 6-8 people |
| Weight | 17.85 lb (8.1 kg) |
| Dimensions | 9.84 x 9.18 ft |
| Area | 90.3 ft² (8.4 m²) |
| Area per person | 15 ft² (1.4 m²) |
| Peak Height | 72.83 in (185 cm) |
| Packed Size | 48 x 7.8 x 7.8 in |
| Frame | Aluminum |
| Waterproof Rating | 3000 mm |
Final Thoughts, Rating, Pros & Cons:
KAZOO Family Camping Tent 6-8 Instant Cabin (Aluminum Poles)
Final Thoughts
In summary, the KAZOO Family Camping Tent stands out with its well-balanced design, high-quality materials, and impressive waterproof rating. While the interior space may not be exceptionally large, the tent makes up for it with the addition of a convenient awning. Rather than relying solely on the declared capacity, it is advisable to consider the actual dimensions and features of the tent.With its competitive price and outstanding value, the KAZOO tent offers a unique and worthwhile option in the market. Its inclusion in the list of 6-person instant tents highlights its commendable attributes. Whether you're a couple or a small group, this tent provides a reliable and enjoyable camping experience.
Pros
Great price.
Excellent poles.
Incredibly easy to use.
Provides full protection.
Includes an awning for added space.
Cons
Lengthy when packed.
Small for the declared capacity.
If you're looking for alternative choices, consider exploring the Cabin Tents category for a similar tent style. The Pacific Pass Camping Tent 6 Person Instant Cabin is worth considering. It lives up to its name with instant setup, but it is a single-layer tent, offering a different design and features. Comparing it to the KAZOO tent could help you make a well-informed decision.
Alternatively, if you're open to exploring different options while maintaining a similar capacity, browse through the Tents for 5-6 people category. Here, you may discover tents that provide unique features and variations to suit your specific camping preferences.