When it comes to outdoor adventures, having a reliable and efficient wood stove is essential. If you're searching for a high-quality option without breaking the bank, the Guide Gear Outdoor Wood Stove is worth considering. With recent improvements and an unbeatable price tag, this wood stove offers robust construction and an array of features that make it a standout choice for outdoor enthusiasts.
Key features & benefits
Improved Door Design: The Guide Gear Outdoor Wood Stove boasts a redesigned door with a cool-touch coiled handle and adjustable vents for enhanced safety and temperature control.
Removable Legs: Equipped with four removable legs, this stove offers stability on various terrains and allows for easy adjustment or removal as needed.
Door Vents: The inclusion of adjustable vents in the door enables precise temperature regulation and efficient burning.
Great Price: Offering a combination of quality and affordability, the Guide Gear Outdoor Wood Stove provides excellent value for your money.
What this is about
The Guide Gear Outdoor Wood Stove has been a trusted companion for outdoor enthusiasts for many years. With its durable construction and efficient performance, this wood stove continues to be a popular choice among campers, backpackers, and survivalists. Let's delve into the key features and details that make this stove a reliable option for all your outdoor cooking and heating needs.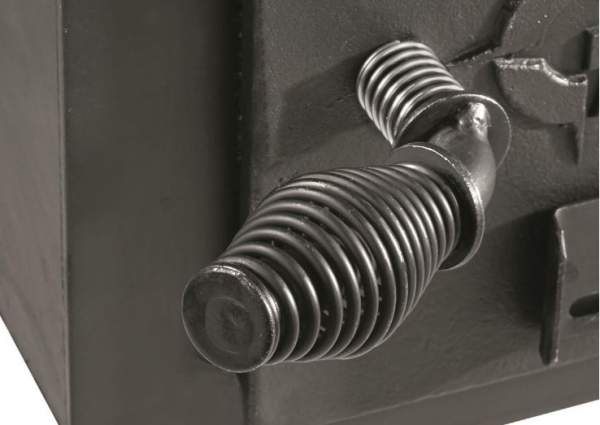 Sturdy Cast Iron Construction:
At the heart of the Guide Gear Outdoor Wood Stove is its robust cast iron door. Crafted with precision, this door ensures durability and longevity even in harsh outdoor conditions. The addition of two adjustable vents provides you with greater control over airflow and temperature regulation.
Enhanced Seal and Dimensions:
A closer look inside the stove reveals a carefully placed seal along the perimeter of the door. This seal effectively minimizes heat loss and maximizes the stove's efficiency. The door opening itself measures 9 x 6.5 inches (22.9 x 16.5 cm), allowing for easy loading and access to the firebox.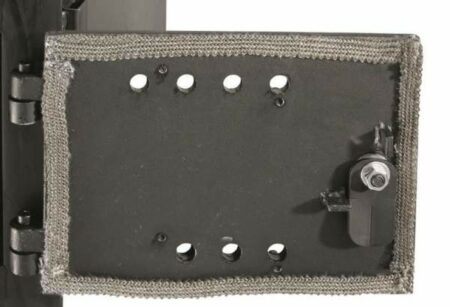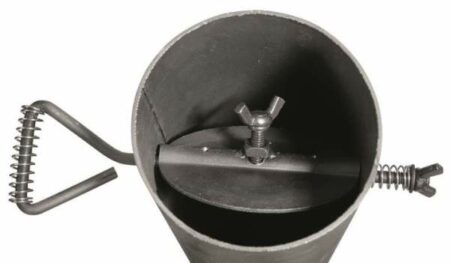 The Pipe:
To ensure efficient smoke ventilation, the Guide Gear Outdoor Wood Stove has five robust pipe segments. When fully assembled, these segments provide a total length of approximately 77.5 inches (197 cm). The first segment of the pipe features an adjustable damper, allowing you to easily control the airflow and heat intensity. Additionally, the top of the pipe is equipped with spark-arresting holes, ensuring safety during operation.
With a wall thickness of 1.8 mm and a diameter of 3.375 inches (8.6 cm), the pipe is built to withstand the rigors of outdoor use while promoting optimal airflow. If you have a taller tent, Guide Gear offers pipe extensions that can be purchased separately, ensuring a proper fit for your specific setup. For a seamless camping experience, consider exploring our selection of tents with integrated pipe jacks that are compatible with this wood-burning stove.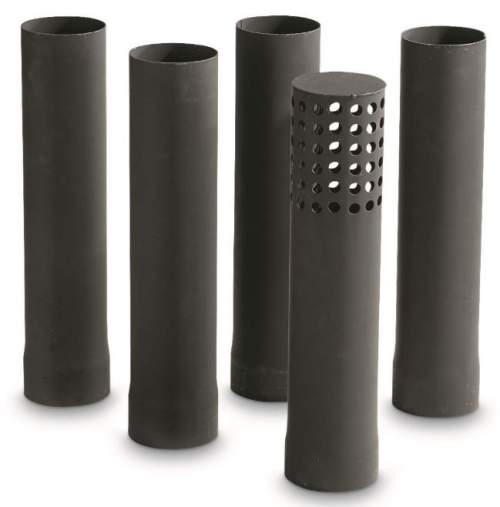 The Firebox:
The firebox of the Guide Gear Outdoor Wood Stove is constructed from 2 mm thick galvanized steel with a high-temp finish. This thickness is twice as thick as the firebox of the Shasta Vent stove, as indicated in the comparison table below. With dimensions measuring 11 x 17 x 8 inches (28 x 43 x 20 cm), the firebox provides ample space to accommodate long and thick pieces of wood, allowing for a longer burning time and efficient heat production.
While the Guide Gear stove does not come with built-in racks, it does feature attachment points on one side, suggesting the possibility of extending the top work area with additional accessories. However, it's important to note that the brand does not currently offer such attachments on the market. The top dimensions of the stove measure 12.5 x 19 inches (32 x 48 cm), providing a generous surface area for cooking or heating. Compared to the Shasta Vent stove, the Guide Gear stove offers a larger top surface.
Weighing in at 43 lb (19.5 kg), the Guide Gear Outdoor Wood Stove is a sturdy and substantial option. However, if you prefer a smaller and lighter alternative, you may want to consider the Fulton Camp Tent Stove Wood Burning.
The Legs & Other Features:
Four removable legs for stability and versatility.
Components, including pipe tubes, can be stored inside the stove for easy storage and transport.
specification
Certainly! Here's a specification table summarizing the key details of the Guide Gear Outdoor Wood Stove:
| Specification | Measurement |
| --- | --- |
| Weight | 43 lb (19.5 kg) |
| Dimensions (W x L) | 12.5 x 19 in (32 x 48 cm) |
| Height with the pipe | 7.75 ft (236 cm) |
| Firebox Thickness | 2 mm |
| Pipe Thickness | 1.8 mm |
| Pipe Diameter | 3.375 in (8.6 cm) |
| Pipe Length | 77.5 in (197 cm) |
| Firebox Size (W x L x H) | 11 x 17 x 8 in |
| Door Opening Dimensions | 9 x 6.5 in (22.9 x 16.5 cm) |
| Legs Height | 7.5 in (19 cm) |
Improved Guide Gear Outdoor Wood Stove
Guide Gear Outdoor Wood Stove vs Camp Chef Alpine Stove & Shasta Vent Stove
The Guide Gear Outdoor Wood Stove falls between the Camp Chef Alpine Stove and Shasta Vent Stove in terms of weight. Understanding the weight differences can be helpful in making an informed choice.
The Camp Chef stove offers the convenience of side racks, providing additional space for cooking utensils and accessories. The Shasta Vent stove stands out as the only tripod design among the three, offering stability on uneven surfaces.
Final Thoughts, Rating, Pros & Cons
Improved Guide Gear Outdoor Wood Stove
Final Thoughts
The Guide Gear Outdoor Wood Stove offers improved features and robust construction at an incredibly affordable price. However, it lacks side racks and a fire grate inside. Consider the Large Stove version for added space and compatibility with the Guide Gear Base Camp Tent. Overall, it provides great value for the money.
Pros
Improved door design with adjustable vents.
Removable legs for stability.
Compact and portable design.
Sturdy cast iron construction.
Generous firebox size.
Affordable price.
Optional pipe extensions available.
Cons
No side racks or fire grate.
Limited work area extension options.
Heavy weight.
No carry handle or bag.
If you're looking for more options in the category of Tent Stoves and Heaters, our website provides a comprehensive selection of top-notch items in the industry. One noteworthy option to consider is the Cylinder Stoves Outfitter Wood Stove Package, which even includes a water tank for added convenience.