The Guide Gear Base Camp Tent is a four-season bell-shaped tent with a large porch, five windows, two awnings, and an integrated stove pipe jack.
Key features and advantages
Tent in the shape of a bell.
Extremely tall.
The stove pipe jack is built in.
There are five windows.
There are two awnings.
The vestibule in the front.
Overview
This Guide Gear Base Camp Tent is a bell-shaped tent of a specific type with one central pole, as shown in the inner view in the image below. However, there are several external poles visible in the images.
Because such a building cannot stand alone, it must be securely staked down. All stakes and guylines are included for this reason.
Bell tents are often very tall, and this one is no exception, with a central height of 10 ft (305 cm). The side walls visible in the photos are four feet (122 cm) tall. With such vertical side walls and windows, this tent feels like a cabin-style tent. You have a lot of space inside, and it's on my list of tall camping tents.
The tent includes at least 5 windows and two separate large doors on the sides that may be used to make awnings using the flaps, as shown in the image below. These openings are all dual-layered, with mesh and panels. The dimensions of the windows are (W x H) 35 x 10 inches (89 x 25 cm).
The porch
The structure of the tent includes a very convenient porch. The image above depicts its side view. The interior is shown below. As you can see, this is a large and lofty compartment with a linked-in detachable floor, so there are plenty of storage options for your gear and boots. The floor in the image is attached to the porch walls via Velcro tabs.
jack for a stovepipe
This tent is pre-assembled and ready to use inside a wood-burning tent stove. So you have an integrated stove pipe jack and may use any pipe up to 5.5 inches (14 cm) in length here. As you may know, most wood-burning tent stoves on the market have a smaller pipe diameter. When not in use, a flap keeps it closed (see image below).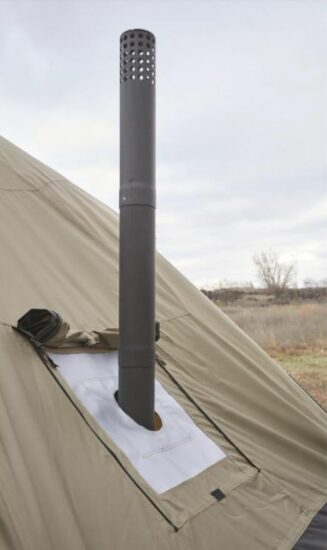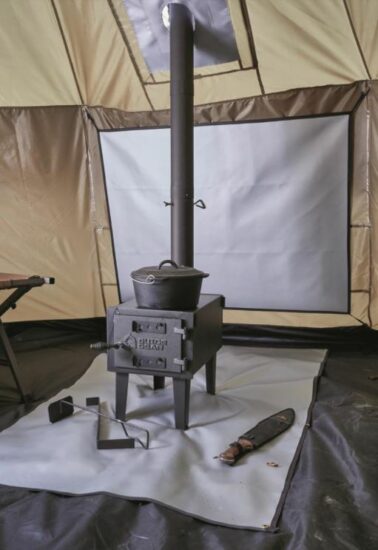 Take note that the tent includes a bonus: a huge fire-retardant panel, as shown in the image above. This tent with an integrated pipe jack is on my list of tents.
Ventilation
This tent has excellent ventilation. You've previously seen its multiple mesh windows and side doors. They are under the roof and are thus somewhat shielded from the rain, as shown in the image below.
When the sky is clear, and the wind is light, leave the awnings up and get as much ventilation as needed. The image below depicts how this might appear:
However, a series of top vents can be seen in the photos and are placed around the highest point on the roof.
Who is it intended for?
Regarding capacity, the manufacturer does not provide any information about capacity. The inside area should be 154 ft2 (14.3 m2), plus the huge porch because the diameter is 14 feet (427 cm). The stove will determine the capacity; I estimate you have enough space for 4-5 people if you utilise it. The tent can accommodate up to 7-8 people without the stove.
Compare it to this Whiteduck Regatta tent, which is nominally a 6-person tent with a 13-foot circumference. Thus, the area is close to 133 ft2. This Guide Gear Base Camp Tent has significantly larger floor space and a porch.
In terms of seasons and climate, there is little doubt that this is a tent for all seasons. You can use a stove when cold outside, but the tent is well-ventilated for warm-weather camping. It is rather tall and not particularly aerodynamic, but it is completely secured with guyout lines, aluminium tensioners, and stakes.
However, I would keep this tent within the tree line. Also, because this is a synthetic fabric, please be cautious when using the stove inside.
This tent is hefty and unwieldy in weight and packed dimensions, so you'll only use it in places with automobile access.
Specifications
Weight: 52 lb (23.6 kg).
Diameter: 14 ft (427 cm).
Area: 154 ft² (14.3 m²) + porch.
Centre height: 10 ft (305 cm).
Sidewall height: 4 ft (122 cm).
Door size (W x H): 4 x 6 ft (122 x 183 cm).
Fabric: polyester Oxford.
Final thoughts, rating, pros & cons
Guide Gear Base Camp Tent
Final Thoughts
As you can see, the Guide Gear Base Camp Tent is quite stunning. This tall and pleasant structure has views all around, great awnings on the sides, and a useful porch that provides complete shelter for all your belongings. This tent is suitable for all seasons and conditions.
Pros
Very enjoyable.
Complete security.
Ventilated.
Excellent porch.
Awnings.
The pipe jack.
Cons
Heavy.
Bulky.
Expensive.
Thank you for taking the time to read this, and have a wonderful day.