The DANCHEL Cotton Bell Tent with Two Stove Jacket is a versatile, non-freestanding tent designed to provide complete protection in all four seasons, making it an ideal choice for both camping and glamping adventures. No matter the weather conditions, this tent has got you covered, ensuring a comfortable and secure shelter throughout your outdoor escapades.
Key Features & Benefits:
Experience the best of camping with the remarkable DANCHEL Cotton Bell Tent with Two Stove Jacket. Here are its key features:
Canvas Tent: Enjoy the timeless appeal of a durable canvas tent that creates a cozy atmosphere.
Full Protection: Stay protected from the elements and insects with reliable rain and wind resistance, UV protection, and double-layer openings.
4 Seasons Tent: Designed to withstand all seasons, providing a cool ambiance in summer and insulation properties for warmth in winter.
Easy Setup: Effortlessly set up the tent in under 20 minutes, thanks to its user-friendly design.
Quality Materials: Crafted with high-quality, waterproof, fire retardant, and UV/mold resistant canvas fabric, ensuring durability.
2 Stove Jackets: Stay warm during colder nights with stove jackets on the roof and side wall, compatible with wood-burning stoves.
Canopy Setup: Transform your camping experience into a luxurious glamping retreat or create a cozy space for family gatherings.
Tent Design and Stove Jacket Features:
The DANCHEL Cotton Bell Tent with Two Stove Jacket presents a "series" of two bell-shaped canvas tents, each catering to different space requirements. The larger tent boasts an impressive diameter of 16.6 ft (5 m), while the smaller one measures 13.3 ft (4 m). Although our focus will primarily be on the larger tent, both options share similar features, differing only in size and weight. With their eye-catching circular design, these canvas tents provide a pleasant and spacious haven for your outdoor excursions. Notably, a single large entry door invites you into a world of comfort and adventure.
Featuring a non-freestanding design, the DANCHEL Bell Tent ensures stability and structural integrity through proper staking. When choosing your camping spot, consider the availability of suitable stakes to secure the tent firmly. This single-room structure adopts a single-layer construction, while the strategically placed double-layer openings, combining mesh and canvas, guarantee excellent ventilation while keeping bothersome insects at bay.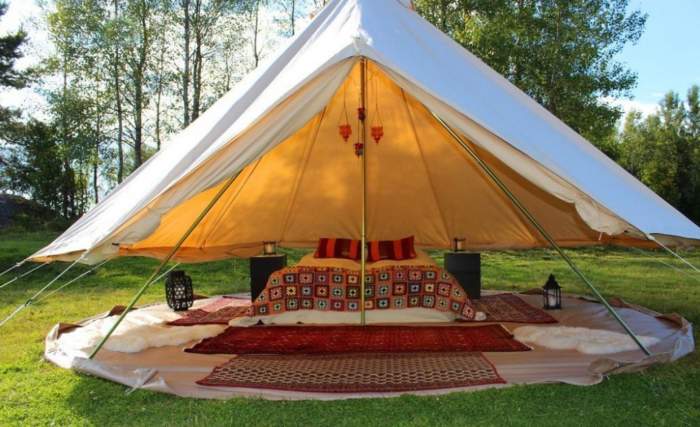 The DANCHEL Cotton Bell Tent with Two Stove Jacket incorporates two stove jackets—one on the roof and another on the side wall—providing versatility and comfort. These stove jackets, with a diameter of 3.9 inches (10 cm), earn this tent a well-deserved place among the best tents with stove jacks. Positioned approximately 3.5 ft above the floor, the roof jacket creates ample space for safe and efficient wood-burning. For those seeking the cozy warmth of a wood stove, consider perusing our separate text on wood burning tent stoves, where you will find recommendations like the Camp Chef Alpine Wood Stove. Additionally, Danchel offers its own Danchel Outdoor Tent Wood Stove, tailored specifically for their tents.
Protecting the Stove Jack and Windows
When using a wood stove, it's crucial to invest in additional protection to safeguard the stove jack. However, the design of your stove will determine whether you utilize the roof or side wall jack. Opting for the side wall jack eliminates the need for watertight sealing around the pipe, as the opening is conveniently located beneath the skirt that encircles the entire tent. This clever design element ensures protection not only for the stove jack but also for the windows. To prevent any damage to the tent floor, it is advisable to add a layer of protection underneath the stove.
Flexibility and adaptability are at the core of the DANCHEL Cotton Bell Tent's design. By unzipping the floor completely, the tent allows for a captivating canopy configuration. This transformative feature enables you to convert your camping experience into a luxurious glamping retreat or create an enchanting space in your home garden for memorable family events. Immerse yourself in the boundless possibilities offered by this exceptional tent.
Who is it for
Spacious Capacity
With a generous area of 216 ft² (20 m²), the DANCHEL Cotton Bell Tent with Two Stove Jacket comfortably accommodates up to 8 people. For a group of this size, each person enjoys approximately 27 ft² (2.5 m²) of space, providing ample room for a comfortable sleeping area. The tent can easily house multiple queen-size beds, offering a luxurious camping experience. However, if you choose to include a stove inside the tent, it is recommended to downgrade the capacity to around 5-6 people to ensure sufficient space for both bedding and the stove.
Versatility for All Seasons and Climates
Built to withstand all seasons, the DANCHEL Bell Tent is designed to excel in any weather condition. During the summer, the canvas material creates a cool and pleasant atmosphere, while providing abundant options for ventilation. In the winter, the insulating properties of the canvas surpass those of synthetic materials, and the addition of a stove allows for cozy warmth. All tent openings can be securely closed, effectively preserving heat and ensuring a comfortable interior temperature. It is no surprise that this tent has earned its place on the list of recommended tents for cold weather camping.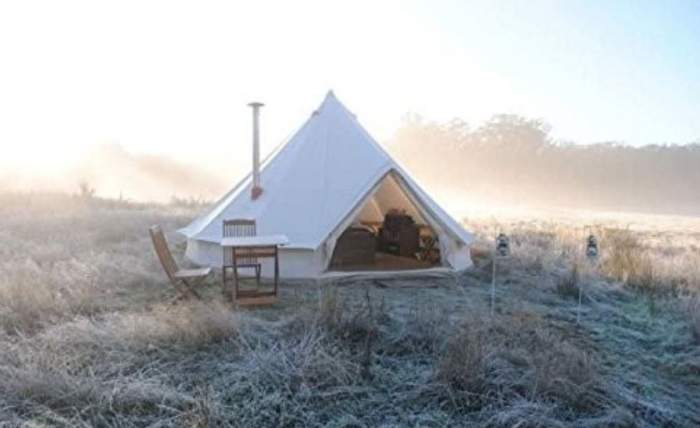 Weight-Wise:
Despite its weight, the DANCHEL Cotton Bell Tent is surprisingly easy to set up. Weighing in at 83 lb (38 kg), the tent's package measures 45 x 12 x 12 inches (114 x 30 x 30 cm). However, don't be deterred by the weight, as a single person can assemble the tent in under 20 minutes. The included components and user-friendly design make the setup process quick and hassle-free. Bid farewell to the frustrations of complex assembly and embrace the convenience of a tent that allows you to focus on enjoying your camping experience.
Materials & Construction:
The Fabric:
The DANCHEL Cotton Bell Tent with Two Stove Jacket boasts a fabric that combines functionality and protection. The canvas used in the tent is claimed to be waterproof, fire retardant, and UV and mold resistant. With a weight of 285 g/m² for the roof and walls, this sturdy material ensures durability and long-lasting performance. While the canvas offers strength and breathability, it is important to note that it is relatively heavy and takes longer to dry. Additionally, it's worth mentioning that no material is entirely mold-proof, so proper drying is essential before storing the tent at home. Typically, the canvas is treated with anti-fungal agents and made waterproof for a minimum of 60 weeks of use, ensuring reliable protection and longevity.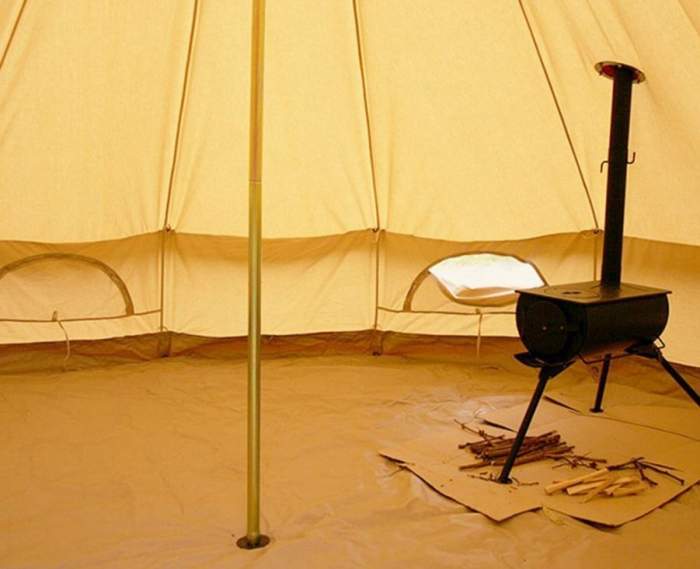 The DANCHEL Bell Tent features a heavy-duty PVC floor, with a weight of 480 g/m². This robust flooring material offers exceptional durability, further enhancing the tent's overall sturdiness and resilience. To ensure a bug-free interior, the tent's windows and door are equipped with high-density mesh, providing effective protection against insects of all kinds. You can enjoy the refreshing breeze without worrying about unwanted guests joining your camping experience.
The Poles & Pegs:
Setting up the DANCHEL Cotton Bell Tent is a breeze, thanks to its simple pole system. The tent utilizes a single central pole, constructed from galvanized steel tubing, as the main support. Additionally, there is a separate pole that supports the door and creates an A-shaped entrance, adding to the tent's stability and ease of entry.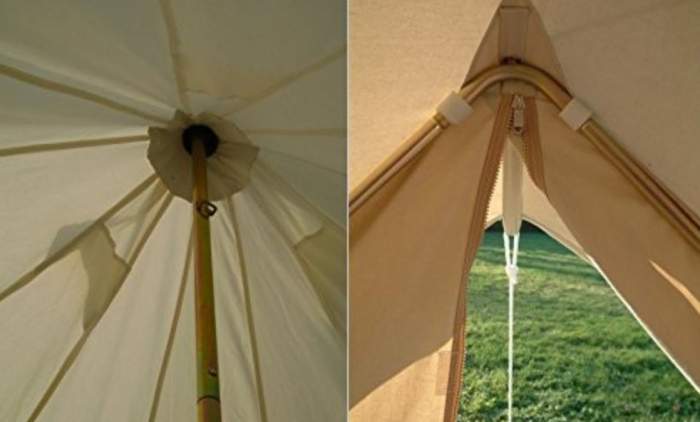 The galvanized steel pegs provided with the tent offer sufficient support for most camping scenarios. However, some users have suggested considering stronger pegs when planning to use the tent on frozen ground, ensuring optimal stability in challenging conditions.
Waterproofness:
The DANCHEL Cotton Bell Tent is designed to keep you dry, thanks to its PVC floor and canvas fabric. The PVC material used for the floor is a form of plastic, indicating a high level of waterproofness. However, there are conflicting statements regarding the exact waterproof rating. While some sources mention ratings of 1500 – 2000 mm for the floor and 3000 mm for the canvas, these figures may not be entirely accurate.
It's important to note that contradictory information can be found on different platforms. To test the waterproofness, the tent is supposedly subjected to hanging 0.5 gallons of water in the canvas for 24 hours without leaking. While this is not the standard method for waterproofness testing, numerous users have reported using the tent in heavy rain without experiencing any leaks.
Ventilation:
The canvas fabric of the DANCHEL Bell Tent offers natural breathability, ensuring a comfortable airflow. However, it's worth noting that the inner surface appears to be coated, resembling a plastic-like material. To promote further ventilation, the tent features four vents high on the roof, allowing air circulation throughout the space.
Additionally, the tent is equipped with four zippered windows, each consisting of separate layers of mesh and canvas. The windows are well-protected under the skirt that surrounds the tent, allowing partial opening for fresh air while keeping insects at bay. With these ventilation features in place, you can enjoy a well-ventilated interior, even during warmer weather conditions.
What is included
Bell tent: The main component of the setup, providing a spacious and comfortable shelter for your outdoor adventures.
Waterproof oxford carry bag: A convenient bag for storing and transporting the tent, ensuring its protection and portability.
Instructions: A helpful guide to assist you in the setup process, making it easier and more straightforward.
Polyester guylines: Essential for securing the tent and maintaining its stability in various weather conditions.
Poles: The necessary support system, including a central galvanized steel tube pole and a separate pole for the door, ensuring the tent's structural integrity.
Steel stakes: Galvanized steel stakes that anchor the tent firmly to the ground, enhancing stability and security.
Specifications:
Here is the specification table of DANCHEL Cotton Bell Tent with Two Stove Jacket:
| | |
| --- | --- |
| Type | Bell-shaped tent, non-freestanding |
| Capacity | 8 people |
| Weight | 83 lb (38 kg) |
| Diameter | 16.6 ft (5 m) |
| Area | 216 ft² (20 m²) |
| Area per person | 27 ft² (2.5 m²) |
| Packed size | 45 x 12 x 12 in (114 x 30 x 30 cm) |
| Peak height | 118 in (300 cm) |
Final thoughts, rating, pros & cons
DANCHEL Cotton Bell Tent with Two Stove Jacket – For All Seasons
Final Thoughts
The DANCHEL Cotton Bell Tent stands out among the various tents available on the market, particularly due to its inclusion of stove jackets. While there are numerous tents of this type emerging, not all of them offer this essential feature. If you're planning to camp in extremely cold environments, having stove jackets and a compatible stove becomes crucial, making this tent a standout choice.Although the price may appear relatively high, it aligns with the value and quality this tent delivers. The DANCHEL Cotton Bell Tent offers a reasonable price point considering its features, durability, and functionality. Its inclusion in the list of best canvas bell tents further affirms its reputation and desirability among camping enthusiasts.The DANCHEL Cotton Bell Tent with its stove jackets proves to be a reliable and valuable investment for cold weather camping. Its competitive pricing, combined with its distinct features, sets it apart from other options in the market. Choose this tent to elevate your camping experience and enjoy the comfort, versatility, and functionality it provides.
RELIABILITY & PROTECTION
9.4
Pros
Quality craftsmanship.
Full protection.
Vents and windows.
Spacious door.
Canopy configuration.
Cons
Heavy.
No storage elements.
Expensive.
Single room design.
If you're seeking more alternatives, feel free to explore my compilation of the top canvas tents for camping. For a comprehensive comparison, consider evaluating the DANCHEL Cotton Bell Tent alongside the White Duck Outdoors Avalon Canvas Bell Tent, both designed in a similar style. Alternatively, take your time to browse through our extensive selection, as this website caters specifically to those in search of spacious family camping tents.