Hello, camping buddies! Today, I want to tell you about a super cool tent I found – the Cabela's Ultimate Alaknak 12'x12′ Outfitter Tent. This tent is really big and tall, and it has some cool things that make it great for camping in all kinds of weather.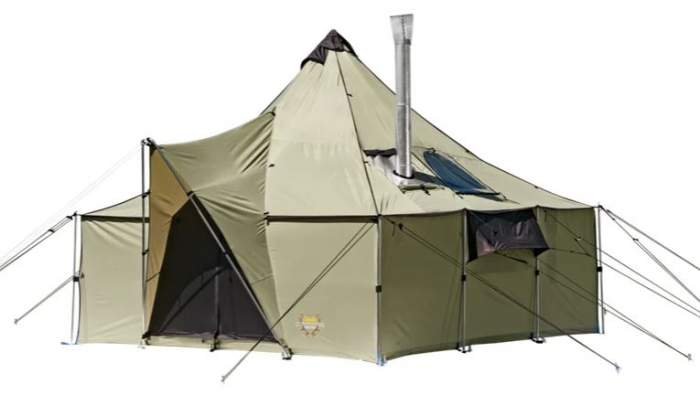 It has a special hole for a stovepipe, lots of vents, and windows that are made of three layers! So whether it's hot, cold, rainy, or snowy, this tent has you covered.
In this review, I will talk about all the things that make this tent special. We'll look at how tall it is, how it's made, and how it can be good for different kinds of weather. So if you like camping, or if you're thinking about getting a new tent, stick around! I'm going to tell you all about the Cabela's Ultimate Alaknak 12'x12′ Outfitter Tent, and I think you're going to find it really interesting!
Overview of the Tent
The Ultimate Alaknak 12'x12′ Outfitter Tent isn't a newbie in the world of outdoor adventures. Believe it or not, it has been a trusted companion for campers for roughly two decades!
It's part of a bigger family of tents, fondly named the Alaknak series. This family has three members, and our star today, the 12'x12′ version, sits comfortably in the middle in terms of size.
Setting up the Tent: A Step-by-Step Guide
Now, this tent is a bit different from those that can just pop up and stand on their own. It needs a bit of help to stand tall and firm. It needs to be staked into the ground to stay up.
So, the first thing you'll need to do is find the perfect spot where the ground is solid enough to hold the stakes firmly.
Staking the Base: Once you've found the perfect spot, the real fun begins. You start by staking the base of the tent to the ground. This forms the foundation for your tent.
Inserting the Leg Poles: Next, it's time to get the leg poles in place. Think of these like the tent's legs – they're what help it stand up!
Securing the Guylines: After you've got the leg poles in place, you attach some ropes, known as guylines, around the tent and then raise the walls up from the ground.
Positioning the Central Pole: Now, here comes the fun part – you'll need to crawl inside the tent to put the central pole in place. This pole is super important – it's like the tent's backbone and gives the tent its shape.
Setting up the 'A' Frame Door Support: Once the central pole is in place, you add a special support for the door. This is shaped like the letter 'A'.
Final Adjustments: The last step is going around the tent, tightening the guylines, and fastening some Velcro tabs to the side poles. Don't worry if this sounds a bit tricky – with a bit of practice, you can do it all by yourself in less than half an hour!
Windows, Doors, and Ventilation Features
Three-layer Roof Windows
The Ultimate Alaknak 12'x12′ Outfitter Tent has three windows on its roof, and each one is made up of three layers.
This special design gives you more control over how much light and air comes into your tent. The innermost layer is a zippered panel, followed by a fixed mesh, and finally, there's a zippered translucent vinyl panel on the outside.
You can roll up the outer panel for more ventilation, or keep it closed for a cozy feel inside the tent.
Wall Windows and Vents
In addition to the roof windows, the tent also has three windows on its vertical walls. These windows double as vents, which help keep the air inside your tent fresh and comfortable.
Each window has an inner panel with Velcro closing, a fixed mesh layer, and an awning on the outside for protection from rain and glare. To open the awning, you simply pull it out and attach it to the guylines.
A-Frame Door with Mesh and Panel
The tent has one door, which is supported by an A-shaped frame. This door is made up of two layers: a full-size mesh and a panel. Both layers have high-quality YKK zippers, ensuring your door stays secure and easy to open and close.
Ventilation for All Climates
With the three closable side windows, the roof windows, and the triangular mesh vent above the door, this tent offers excellent ventilation for all types of weather.
The various vents ensure that you have enough fresh air circulating inside the tent, no matter the climate.
On clear days, you can also keep the door open with only the mesh layer, allowing even more air to flow through your tent.
The Pipe Jack and its Functionality
One of the most intriguing features of the Ultimate Alaknak 12'x12′ Outfitter Tent is its integrated pipe jack. This is basically a hole in the roof of the tent designed to fit the pipe of a wood-burning stove.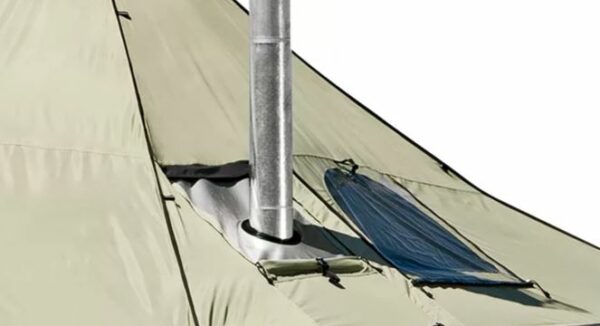 The pipe jack has a diameter of about 5 inches (13 cm), which is pretty standard for most stove pipes. When you're not using a stove, you can simply close the pipe jack with its zippered panel to keep the elements out.
Zippered U-Shaped Floor Opening
In addition to the pipe jack, the tent also features a zippered U-shaped opening on the floor.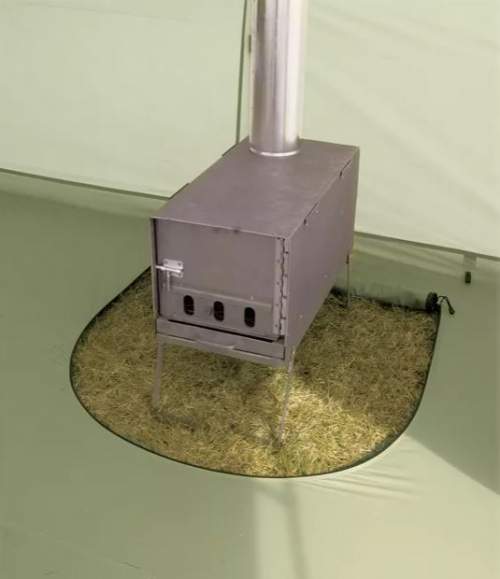 This opening is designed to accommodate a stove, allowing you to heat the tent from the inside. It's a thoughtful feature that makes this tent perfect for camping in colder climates.
Materials and Construction
Poles and Stakes
Let's talk about what gives the Ultimate Alaknak 12'x12′ Outfitter Tent its shape and stability. The tent comes with a set of 10 leg poles and 1 center pole. These are all made of strong and thick steel, which means they are designed to withstand the elements and keep your tent standing tall.
The stakes that you use to secure the tent to the ground are also made of steel and are 12 inches (30 cm) long. These stakes are very robust, and they will ensure your tent stays firmly in place.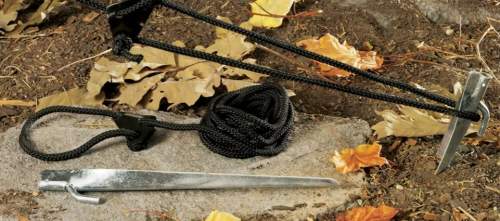 Tent Fabric
The shell of the tent is crafted from a material known as X-Treme Tent Cloth. This is a super durable type of 250D polyester Oxford that is meant to withstand harsh outdoor conditions. It also has a 1000 mm PU coating, which provides a modest level of waterproofing. Even though it might not seem like a lot, this tent will definitely keep you dry when you're out in the wilderness.
Tent Floor
The floor of the tent is made to be even tougher than the rest. It's made from a 300D polyester Oxford material, which is known for its durability.
On top of that, it's coated with a 3000 mm waterproof coating. This means that even if you're camping on damp ground, you don't have to worry about moisture seeping in from below.
The floor isn't exactly a bathtub design, but it's cut in a way that keeps water from getting in.
Storage Elements
Inside the tent, you'll find some beautifully designed storage elements on the walls. These include pouches and a fold-down shelf that you can use to store your gear and personal items. It's a nice touch that adds a lot of convenience to your camping experience.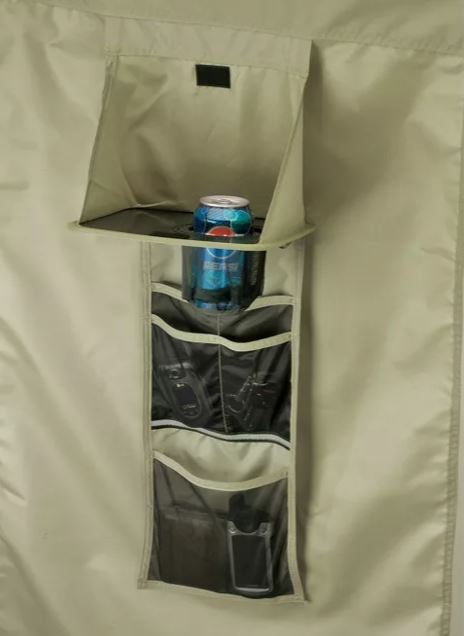 Who is this Cabela's Ultimate Alaknak 12'x12′ Outfitter Tent for?
For the Space-conscious Camper
The Ultimate Alaknak 12'x12′ Outfitter Tent is a perfect choice for those who prioritize space in their camping experience.
With a total floor area of 144 ft² (13.4 m²), it provides ample room for movement and storage.
The layout of the tent allows 6-8 sleeping pads to be comfortably arranged on the floor. However, for a more relaxed experience, I suggest treating it as a 6-person tent.
If you're planning to use a stove inside, it would be best to reduce the occupancy to 3-4 people to ensure everyone has enough space.
For the All-Season Adventurer
No matter the time of year or the weather condition, this tent has got you covered.
Its design allows for excellent ventilation during warmer months, while the option to close almost all openings and heat it with a stove makes it a cozy abode in colder climates.
It's truly an all-season tent.
For the Comfort Seeker
With a peak height of 115.7 in (294 cm), and vertical side walls standing at 4 feet (122 cm), this tent offers a roomy and comfortable environment.
Its boxy structure provides a significant volume of space, enhancing the overall comfort level.
However, due to its non-aerodynamic shape, it's not recommended for use in extremely windy conditions or above the tree line.
For the Heavy-duty Camper
Weighing in at a total of 67 lb (30.4 kg), this tent is not for the light packer.
It's a robust structure designed for durability and longevity, making it ideal for those who don't mind the extra weight for the assurance of a sturdy shelter.
The packed size, while relatively long at 53.7 x 12.7 x 12.7 inches (136 x 32 x 32 cm), is manageable and well worth the comfort and durability it provides.
Specifications
For a concise overview of Cabela's Ultimate Alaknak 12'x12′ Outfitter Tent's key specifications, please refer to the table below:
| Specifications | Detail |
| --- | --- |
| Weight of Tent | 31 lb (14.1 kg) |
| Weight of Poles | 23 lb (10.4 kg) |
| Weight of Stakes | 13 lb (5.9 kg) |
| Tent Dimensions | 12 x 12 ft (366 x 366 cm) |
| Floor Area | 144 ft² (13.4 m²) |
| Peak Height | 115.7 in (294 cm) |
| Packed Size | 53.7 x 12.7 x 12.7 in (136 x 32 x 32 cm) |
| Total Weight | 67 lb (30.4 kg) |
Additionally, Cabela's offers a one-year warranty against manufacturing defects, providing you with confidence in the tent's quality and durability.
Final Thoughts, Pros & Cons
After a thorough review of the Cabela's Ultimate Alaknak 12'x12′ Outfitter Tent, it's clear that this is a well-designed and well-made tent suitable for a wide range of camping scenarios.
Pros & Cons
Pros:
The tent's vertical walls and tall peak height provide ample living space, making it ideal for those who prioritize comfort and spaciousness in their camping experience.
The integrated pipe jack and multiple vents make this tent suitable for all seasons and climates.
The tent's X-Treme Tent Cloth fabric and sturdy steel poles and stakes ensure durability and longevity.
The tent comes with four storage elements and a fold-down shelf, enhancing its practicality and convenience.
Cons:
The tent's single-room design may not be suitable for those who require separate spaces or privacy.
The tent's weight and bulkiness may not be ideal for those who prefer a more lightweight and compact camping experience.
Here is a quick summary of the pros and cons of the Cabela's Ultimate Alaknak 12'x12′ Outfitter Tent:
Pros
Spacious interior
Integrated pipe jack
Multiple vents
Durable construction
Convenient storage
Cons
Single-room design
Bulky
Heavy
Final Thoughts:
Overall, the Cabela's Ultimate Alaknak 12'x12′ Outfitter Tent is an excellent choice for campers looking for a spacious and durable shelter suitable for all seasons.
Its integrated pipe jack, multiple vents, and sturdy construction make it a top pick for those who prioritize comfort, convenience, and practicality.
While its weight and single-room design may not be ideal for some, the tent's overall quality and features make it a solid investment for any camping enthusiast.
Thank you for taking the time to read this review. If you have any questions or comments, please feel free to leave them in the comment section below.