If you're an avid camper, this feature-rich and robust tent is worth your attention. Designed for cold weather camping, it boasts a high waterproof rating and a full-coverage fly, ensuring you stay dry and comfortable in any conditions.
When it comes to choosing a tent for your outdoor adventures, durability and protection are paramount. The Cabela's Alaskan Guide Model Geodesic 6-Person Tent is built to withstand the harshest elements, making it an ideal companion for your camping trips.
Whether you're embarking on a winter expedition or setting up camp in a chilly mountain region, this tent is designed to keep you warm and secure. With its true double-layer construction, it provides enhanced insulation and an added layer of defense against the elements. No matter how fierce the wind or heavy the rain, this tent is engineered to stand strong.
Key features & benefits:
When it comes to investing in a quality tent, understanding its key features and benefits is essential. Let's take a closer look at what sets the Cabela's Alaskan Guide Model Geodesic 6-Person Tent apart from the rest:
True double layer tent: Experience enhanced insulation and protection with the double-layer design.
High waterproof rating: The tent's durable materials and 2000 mm polyurethane waterproof coating keep you shielded from rain and snow.
Strong frame: The geodesic dome structure, created by multiple poles intersecting, provides exceptional strength and stability.
Durable fabric: Crafted from 75D polyester ripstop, the tent can withstand the rigors of outdoor adventures.
Convenient doors: With three doors—main, rear, and side—you have easy access to your shelter, although they are a bit low.
Spacious vestibule: The trapezoidal-shaped vestibule offers additional storage space and a dry entry point.
Reliable zippers: Equipped with quality No. 8 and No. 10 YKK zippers, the tent ensures smooth operation and durability.
Sturdy fiberglass poles: The shock-corded fiberglass poles contribute to the tent's overall strength and structure.
E-cable port: Stay connected while camping by utilizing the convenient e-cable port.
Unique cup holders: Enjoy the added convenience of cup holders within the tent.
Abundant storage pockets: Keep your belongings organized with the numerous storage pockets on the tent walls.
Overview and Tent Design
The Cabela's Alaskan Guide Model Geodesic 6-Person Tent is part of a series of tents that share the same style. Alongside the 6-person model, there are also options available in 4-person and 8-person capacities. This particular tent has stood the test of time and gained popularity among outdoor enthusiasts.
The term "geodesic" in the tent's name refers to its unique dome design. With multiple poles intersecting to create numerous connection points, the tent's frame is exceptionally strong and stable. This construction ensures reliability in various weather conditions, making it a reliable shelter for your camping adventures.
Shape and Size
When looking at the tent without the fly, you can appreciate its overall shape and frame. The absence of the fly reveals the dome structure, showcasing the strength and stability provided by the geodesic design. It's worth noting that this tent stands tall compared to traditional dome tents, with a peak height of 72.8 inches (185 cm). This allows for comfortable standing in the middle of the tent.
The tent's floor plan showcases an irregular hexagonal shape at the base, with its six sides varying in length. This unique layout maximizes interior space and facilitates efficient utilization. The full-coverage fly extends beyond the main tent, creating a generous trapezoidal-shaped vestibule. This additional space serves as a valuable storage area and provides a dry entry point, keeping your gear protected and the interior clean.
Doors and Vestibule
The Cabela's Alaskan Guide Model Geodesic 6-Person Tent features three doors for easy access and enhanced versatility. The main entrance is situated under the vestibule, ensuring convenient entry and exit. Additionally, there is a rear door and a side door, allowing multiple entry points to accommodate different campsite setups or preferences. However, it's worth mentioning that the doors are relatively low, as depicted in the accompanying visuals.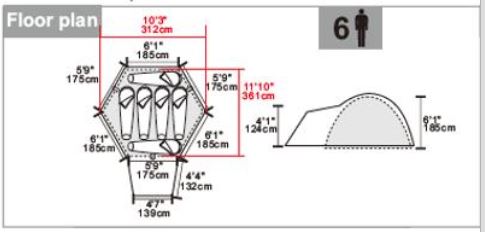 The vestibule, which extends from the main body of the tent, adds functionality and space. While the tent is fully freestanding without the fly, the vestibule requires proper staking for support and functionality. It's important to consider this when camping on frozen ground or in challenging terrain. By zipping the vestibule flap, you can secure the space and enjoy the benefits it offers.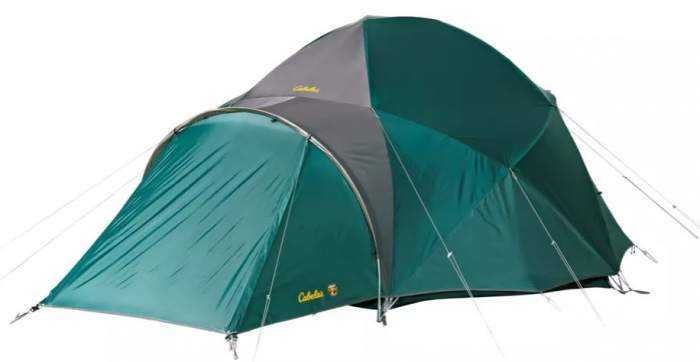 The vestibule is equipped with two zippers, allowing for various configurations. You can unzip it from either side or open the central flap, providing flexibility in response to changing wind directions. The presence of separate buckles for the sides and central part enables you to switch entry points without the need to move or rotate the entire tent.
Materials and Construction
The Cabela's Alaskan Guide Model Geodesic 6-Person Tent is built with high-quality materials and meticulous construction, ensuring durability and long-lasting performance. Let's delve into the details of the materials used in its design:
Poles and Stakes:
The tent features shock-corded fiberglass poles, which offer exceptional strength and stability. These poles are connected at the intersection points using Velcro tabs, creating a secure and reliable framework that can withstand strong winds and heavy snow loads. Along with the poles, the package includes 24 aluminum stakes, providing ample anchoring options to secure the tent firmly to the ground.
Fly Fabric:
The fly of the tent is crafted from a durable 75D polyester ripstop material. This ripstop fabric is designed to resist tears and abrasions, ensuring longevity even in rugged outdoor conditions. To keep you dry during wet weather, the fly is treated with a polyurethane waterproof coating, boasting an impressive 2000 mm rating. This coating effectively repels rain and prevents water from seeping into the tent. Additionally, the fly has undergone UV testing, guaranteeing its ability to withstand prolonged sun exposure without deteriorating.
Floor Fabric:
The tent's floor is constructed from abrasion-resistant 210D polyester oxford material. This robust floor fabric is specifically designed to withstand rough ground surfaces and resist wear and tear. The floor features a bathtub-style design, which means the fabric extends up the sides to create a barrier against ground-level moisture. To enhance its waterproofing capabilities, the floor is coated with an extra-thick 3000 mm-rated coating. This coating acts as a reliable shield, preventing any moisture from seeping through and ensuring a dry and comfortable interior.
Zippers:
The Cabela's Alaskan Guide Model Geodesic 6-Person Tent is equipped with high-quality zippers manufactured by YKK, a renowned zipper brand known for its reliability and smooth operation. The tent features No. 8 and No. 10 YKK zippers throughout, ensuring easy access to the tent and secure closure of doors and vestibule flaps.
Storage and Organization Features:
The tent offers excellent storage and organization options. Three mesh organizer panels are strategically positioned on three walls, providing multiple storage pouches in two layers. These organizer panels allow you to keep your essentials well-organized and within easy reach, ensuring a tidy and clutter-free living space. Additionally, the tent boasts four interior cup holders, a unique and convenient feature that allows you to safely store your beverages and prevent spills.
Other details
The tent features quality No. 8 and No. 10 YKK zippers throughout, ensuring smooth and reliable operation.
Three mesh organizer panels on the tent walls offer multiple storage pouches in two layers, providing convenient organization for your essentials.
The tent boasts four interior cup holders, offering a unique and handy feature to keep your drinks within easy reach.
Three roof hooks are included, allowing you to hang lightweight gear or illuminate the interior with lanterns.
A gear loft provides additional overhead storage space, maximizing the usable area inside the tent.
An e-cable port is built into the tent, enabling you to bring electrical power into the shelter and conveniently charge your devices or use electronic equipment.
Multiple reinforced guy line loops ensure strength and longevity, enhancing the tent's stability during adverse weather conditions.
The package includes a 2-oz seam sealer and a repair kit, providing the necessary tools to address any minor damages that may occur.
Ventilation Features
To ensure a comfortable and well-ventilated interior, the Cabela's Alaskan Guide Model Geodesic 6-Person Tent is equipped with effective ventilation options.
Roof Vents: The inner tent features three roof vents strategically positioned to promote air circulation. These vents allow hot air to escape from the tent, preventing stuffiness and promoting a fresh atmosphere inside.
Mesh Windows: The tent also includes three two-layer mesh panels on the walls, designed to enhance ventilation. These mesh panels serve a dual purpose, providing both airflow and insect protection. You can enjoy the benefits of fresh air without compromising on keeping bugs at bay.
Zippered Windows on the Fly: The windows on the fly of the tent, which correspond to the previously mentioned doors, can be opened using zippers. By unzipping these windows, you can increase the airflow, allowing for better ventilation throughout the tent.
However, it's important to note that the fly itself does not have dedicated vents. While the windows on the fly can be opened, the absence of dedicated fly vents can potentially lead to condensation buildup, especially in humid or wet conditions. It's advisable to manage ventilation carefully and consider opening the fly windows when necessary to mitigate any condensation issues.
Ideal User and Usage
The Cabela's Alaskan Guide Model Geodesic 6-Person Tent is designed with specific considerations in mind, making it ideal for certain camping scenarios.
Capacity and Space:
Officially designed for 6 people, the tent provides ample space for a comfortable camping experience. While the specific floor area is not provided, it is estimated to be around 96 ft² (8.9 m²), offering approximately 16 ft² (1.48 m²) per person. This allows for the placement of 6 sleeping pads on the floor. However, if you plan to use cots, it is recommended to limit the occupancy to a maximum of 3 individuals to ensure sufficient space for both sleeping and gear storage.
Vestibule for Gear Storage:
The tent features a trapezoidal-shaped vestibule, providing approximately 21.5 ft² (2 m²) of covered storage space for your gear. While this is a significant addition, if you have an abundance of gear, it is advisable to limit occupancy to a maximum of 4 people to ensure ample room for both sleeping and gear storage.
Seasonal Suitability and Climate:
The Cabela's Alaskan Guide Model Geodesic 6-Person Tent is designed as a true two-layer tent, comprising an inner taffeta tent and a full-coverage fly. With a robust frame, durable fabric, and an adequate waterproof rating, this tent is built to withstand various weather conditions. The tent's performance has been field-tested in Alaska and lab-tested to ensure its suitability for challenging environments. While it is marketed as a 4-season tent, it is particularly well-suited for colder climates and winter camping. It is an excellent choice for those seeking reliable shelter in cold weather conditions.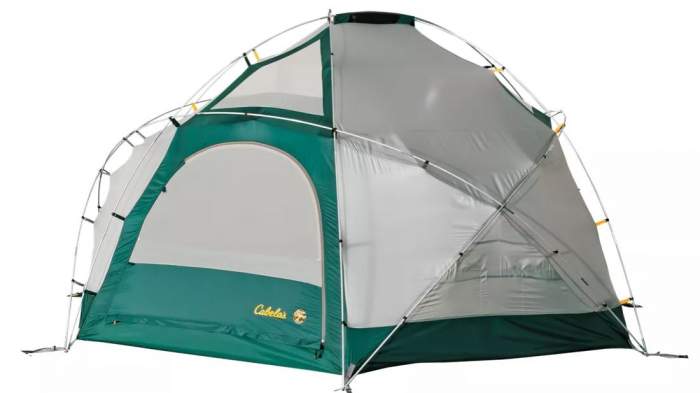 Weight and Portability:
It's important to note that the Cabela's Alaskan Guide Model Geodesic 6-Person Tent is relatively heavy, weighing 33 lb (15 kg). This weight is expected given the number of poles and the durable fabric used in its construction. Additionally, the packed size measures 31 x 10.6 x 9 inches (79 x 28 x 23 cm), making it bulky and less suitable for backpacking or situations where weight and space are critical factors. This tent is better suited for camping in locations with car access, where transportation of the tent is not a significant concern.
Price Considerations:
While the price of the tent may appear high, it is justified considering its features and durability as a 4-season shelter. Pricing may vary, so it's advisable to check current prices through reputable retailers.
Specifications
Here's a comprehensive table summarizing the specifications of the Cabela's Alaskan Guide Model Geodesic 6-Person Tent:
| Specifications | Details |
| --- | --- |
| Weight | 33 lb (15 kg) |
| Official Capacity | 6 people |
| Dimensions | 194 x 126.4 in (493 x 312 cm) |
| Inner Area | 96 ft² (8.9 m²) |
| Inner Area per Person | 16 ft² (1.48 m²) |
| Vestibule Area | 21.5 ft² (2 m²) |
| Peak Height | 72.8 in (185 cm) |
| Packed Size | 31 x 10.6 x 9 in (79 x 28 x 23 cm) |
| Made in | Vietnam |
Final Thoughts, Rating, Pros & Cons:
Cabela's Alaskan Guide Model Geodesic 6-Person Tent
Final Thoughts
The Cabela's Alaskan Guide Model Geodesic 6-Person Tent is a reliable and well-established option that offers a plethora of practical features. Its robust fabric and sturdy frame ensure durability and strength, while the high waterproof rating and full coverage fly guarantee your safety in any weather conditions.Having been on the market for several decades, this tent has proven its worth and gained a solid reputation among campers. With a wealth of knowledge and experiences accumulated over the years, you can trust that there will be no unexpected surprises with this tent.Based on its impressive features and performance, I wholeheartedly recommend the Cabela's Alaskan Guide Model Geodesic 6-Person Tent. Its inclusion in my list of best dome tents and tents with three doors further attests to its quality and versatility.Whether you're planning a cold weather camping trip or seeking a reliable shelter for various outdoor adventures, this tent is a solid choice. Its exceptional fabric, strong frame, and thoughtful design make it a reliable companion in the wilderness.
Pros
Strong and Durable
Excellent Waterproofing
Versatile Three-Door Design
Spacious and Well-Designed
Thoughtful Storage Features
Reliable Construction
Cons
Heavy and Bulky
Lack of Fly Vents
Limited Freestanding Capability
For other tents with a similar shape, be sure to explore the Dome Tents category. However, if you're looking for a different option from the same brand, consider the Cabela's Outback Lodge 8 Person Tent. Additionally, you can refer to my curated list of the best Cabela's tents for camping to discover more top-notch choices.