Bushnell Shield Series 11′ x 9′ Instant Cabin Tent is a beautifully designed tent with 5 windows, steel poles, multiple storage elements, an awning, and with a great price tag. In this detailed review, I'll take you through the key features, materials, and specifications of this tent, as well as provide comparisons with other similar options on the market. Whether you're a camping enthusiast or a family looking for a comfortable outdoor shelter, the Bushnell Shield Series tent has a lot to offer. So, let's dive in and explore why this tent deserves your attention.
Key features & benefits:
Instant setup: Set up the tent in just 60 seconds, saving you time and effort.
Awning: Enjoy a shaded area outside the tent for relaxation or gear storage.
Steel poles: The tent's steel poles provide sturdy support and stability.
E-cable port: Easily access electricity with the built-in e-cable port.
Gear loft: Keep your essentials organized and within reach with the included gear loft.
Multiple storage elements: Benefit from various storage options to keep your camping gear organized.
Reflective fly: The tent's fly is reflective, enhancing visibility and safety in low-light conditions.
5 Windows: Enjoy ample natural light and ventilation with five windows.
Single door: The tent features a single door for easy entry and exit.
Great price: Get exceptional value for your money with this tent's affordable price point.
What's in the Name
When it comes to the Bushnell Shield Series 11′ x 9′ Instant Cabin Tent, the name itself holds significance, indicating specific features and benefits that set it apart from other tents in the series. Let's delve deeper into the meaning behind its name and explore the unique aspects it brings to the table.
Shield Series:
Underneath the tent's fly, you'll find a special coating that sets it apart as part of the Shield Series. This innovative feature serves a dual purpose: it blocks the sun's UV radiation while also creating a cooler and darker interior environment. This means you can enjoy extended periods of relaxation inside the tent without worrying about the discomfort caused by excessive heat or glare.
Instant Setup:
The term "Instant" in the tent's name refers to its exceptional setup design. Unlike traditional tents that require complex assembly, the Bushnell Shield Series tent comes with a pre-attached frame. As a result, you can have the inner tent ready for use within just 60 seconds, allowing you to focus on enjoying your camping adventure instead of grappling with complicated setup procedures.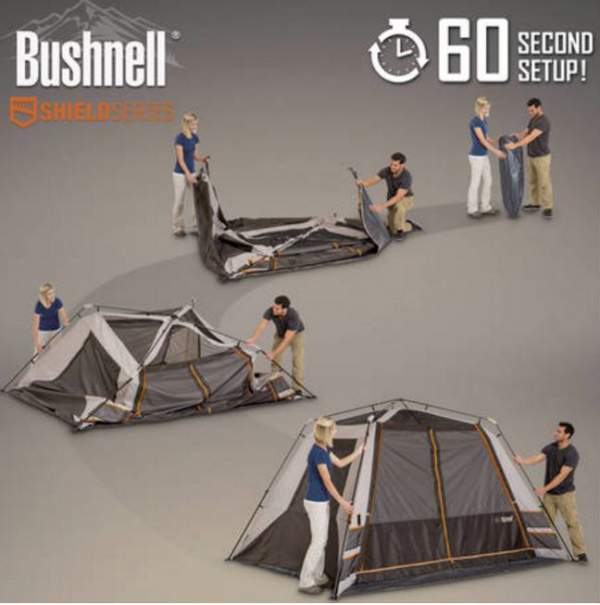 Freestanding Structure:
Notably, the inner tent of the Bushnell Shield Series is fully freestanding. By extending the four leg poles until they audibly click into place, you lock them securely in position. This feature offers both flexibility and convenience as it allows you to easily move and rotate the tent to find the ideal position within your campsite.
Boxed Cabin Style with Panoramic Views
With its stable and elegant boxed cabin-style structure, the Bushnell Shield Series tent combines functionality and aesthetics. The tent showcases panoramic windows on all sides, providing breathtaking views of the surrounding nature. Additionally, the door features an inverted-T zipper design for easy access and added convenience.
The Awning:
Once the fly is added to the tent, an additional pole is required to support the awning. This part of the setup process is quick and straightforward, taking only a few minutes. The awning provides extra shade, creating a comfortable outdoor space where you can relax, socialize, or store your gear. The included stakes ensure stability, allowing you to enjoy the benefits of the awning without worry.
Windows and Zippered Panels:
The Bushnell Shield Series tent features a total of five windows, providing ample ventilation and natural light. Each window is designed with zippered panels, allowing you to customize airflow and maintain privacy according to your preferences. Whether you want to embrace the gentle breeze or shield yourself from the elements, these zippered panels offer versatile control over your camping environment.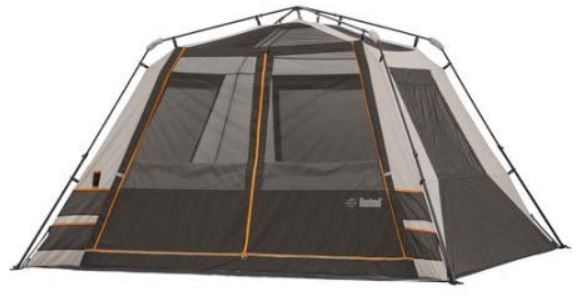 When it's time to pack up the tent, follow these simple steps:
Remove the stakes and awning poles.
Take off the fly.
Collapse the tent by pushing the orange buttons and folding the legs at the elbow joints.
Fold the leg poles towards the center of the tent.
Pack everything neatly for storage and transportation.
Single Room Construction
The Bushnell Shield Series 11′ x 9′ Instant Cabin Tent features a spacious single-room design, providing an open and versatile interior for your camping needs. With no dividers or separate compartments, the tent allows for a flexible arrangement of sleeping areas and camping gear. Although standing height may be limited for taller individuals, the tent offers ample space and convenient access through its wide door.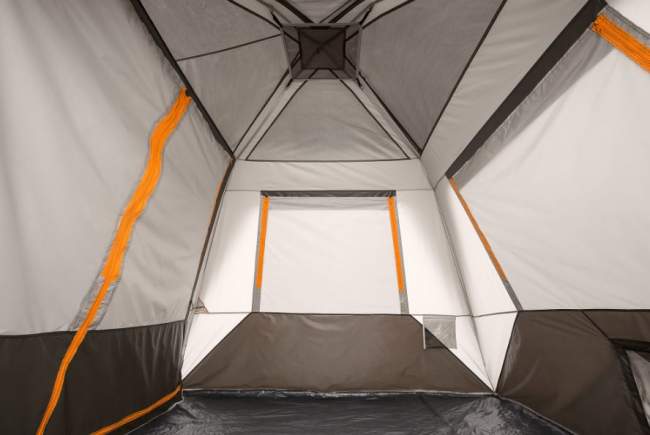 Who Is It For?
Determining the target audience and understanding the suitability of the Bushnell Shield Series 11′ x 9′ Instant Cabin Tent is crucial when considering its use for different camping scenarios. Let's delve into various aspects to identify who this tent is ideal for.
Capacity-Wise:
With its declared 6-person capacity, the Bushnell Shield Series tent offers an inner area of 99 ft² (9.2 m²). This translates to approximately 16.5 ft² (1.5 m²) per person when fully occupied. While it can comfortably accommodate six people, it's worth noting that this configuration may leave limited space for additional gear or personal belongings.
Family Camping:
For family camping trips, the Bushnell Shield Series tent is well-suited for parents accompanied by one child. This configuration provides ample space for a cozy family experience, allowing parents and children to share the same living area within the tent.
Season & Climate-Wise:
In terms of seasons, the Bushnell Shield Series tent is most suitable for two-season use. The tent's design features double-layer windows with mesh and zippered panels, offering excellent ventilation during warm weather. However, it's important to note that the ceiling is primarily mesh and cannot be closed, limiting its insulation capabilities. As a result, the tent performs best in warmer climates where cold temperatures are not a major concern.
Weight-Wise:
Weighing in at 26 lb (11.8 kg), the Bushnell Shield Series tent may not be classified as lightweight. However, this weight is justified by the tent's robust construction and durable steel frame. It's important to consider this weight when planning your camping trips and ensure you have adequate transportation methods, such as a car or other means of easy access to your campsite.
Packed Size:
When packed, the Bushnell Shield Series tent measures 47.6 x 10.4 x 10 inches (121 x 26 x 25 cm). While this packed size is not particularly compact, it is standard for tents with telescopic poles, especially those designed for instant setup. It's important to assess your storage and transportation capabilities, ensuring you have sufficient space to accommodate the packed dimensions of the tent during your camping trips.
Materials
The construction materials of the Bushnell Shield Series 11′ x 9′ Instant Cabin Tent play a crucial role in its durability, weather resistance, and overall performance. Let's delve into the materials used and their impact on the tent's functionality.
Poles & Stakes:
The tent's frame is crafted from durable steel poles, ensuring robustness and stability. These steel poles provide the necessary support to withstand various weather conditions, maintaining the tent's structural integrity. Additionally, the package includes 15 stakes to securely anchor the tent to the ground, enhancing stability during outdoor use.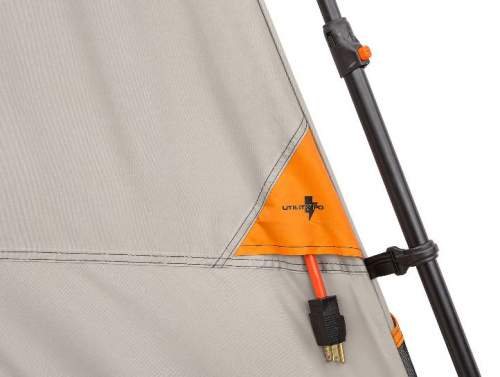 Fabric:
While specific details about the fabric used in the tent are limited, the manufacturer highlights that it features a water-repellent Weather Shield fabric with fully taped waterproof seams. Moreover, the tent's fly and walls are constructed using a 150D polyester material. This combination of fabric provides water resistance, protecting against light rain and moisture. Furthermore, the fly incorporates Heat Shield Technology, featuring a silver coating to block UV radiation, ensuring enhanced protection from the sun's harmful rays.
Ventilation & Air Conditioning
Proper ventilation is essential for a comfortable camping experience, and the Bushnell Shield Series 11′ x 9′ Instant Cabin Tent excels in this aspect. Let's explore the ventilation features and discuss the possibility of air conditioning within the tent.
Excellent Ventilation System:
The tent is designed to maximize airflow and breathability. When the weather is clear, you can take advantage of the mesh windows on all sides and the mesh ceiling. These features allow for optimal ventilation, allowing fresh air to circulate throughout the tent, keeping the interior cool and reducing condensation.
Adaptability in Different Weather Conditions:
In case of rain, the tent's double-layer windows and zippered panels provide protection while still allowing for some ventilation. You can adjust the windows and panels to control the airflow according to the weather conditions, ensuring comfort and protection from the elements.
Floor Vent for Added Comfort:
To further enhance airflow, the tent features a large floor vent with zippers. This vent can be opened or closed, allowing for increased or decreased airflow as needed. The mesh covering the vent keeps insects out while providing a steady supply of fresh air.
Air Conditioning Considerations:
Some campers have found innovative ways to introduce air conditioning into the tent. Utilizing the floor vent, it is possible to connect an external air conditioning system to provide additional cooling. However, it's important to note that the tent's mesh ceiling cannot be closed, limiting the effectiveness of air conditioning in cooling the entire tent. Therefore, while some localized cooling may be achieved, it may not be as efficient in cooling the overall tent space
Other Features
In addition to its core components, the Bushnell Shield Series 11′ x 9′ Instant Cabin Tent offers a range of thoughtful and practical features that enhance your camping experience.
Let's explore these features in bullet-point format:
Storage systems under the awning on both sides provide convenient space to store your camping gear. These storage compartments are located outside of the inner tent but are protected by the awning, ensuring the safety of your belongings.
An e-cable port is available, allowing easy access to electricity for charging devices or powering electronic equipment. This port enables you to stay connected and enjoy modern amenities even in the great outdoors.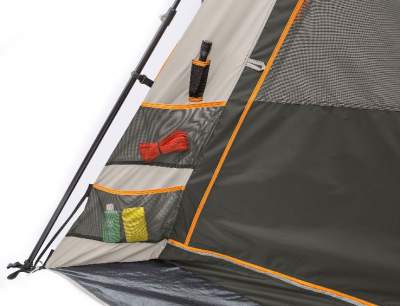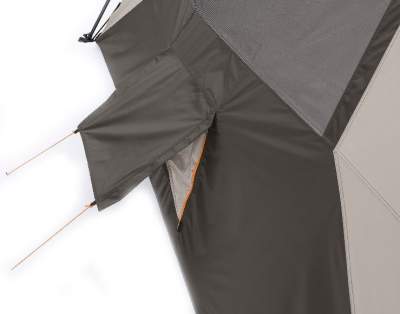 The tent includes a removable gear loft, offering an additional storage option to keep your essentials organized and within reach. This loft helps maximize usable space inside the tent.
Two small inner wall pockets provide convenient storage for smaller items, keeping them secure and easily accessible.
A lantern loop is located on the ceiling above the gear loft, allowing you to hang a lantern or light source for ambient illumination within the tent.
Reflective zipper pulls enhance visibility in low-light conditions, making it easier to locate and operate zippers during nighttime or dimly lit situations.
Reflective guylines add an extra layer of safety by improving the visibility of the tent's guy ropes, reducing the risk of tripping or accidents in low-light settings.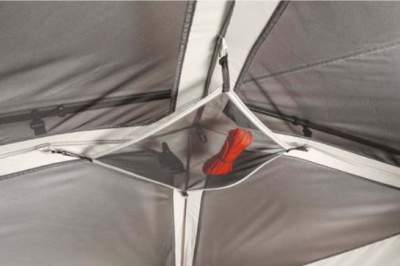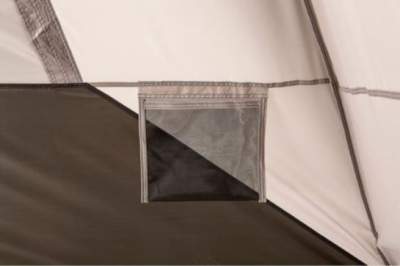 Specification
The specifications of the Bushnell Shield Series 11′ x 9′ Instant Cabin Tent provide important details about its size, capacity, weight, and dimensions. Let's explore these specifications to gain a comprehensive understanding of the tent's features.
Declared capacity: 6 people
Weight: 26 lb (11.8 kg)
Total dimensions (with the awning): 11 x 12 ft (337 x 366 cm)
Inner dimensions: 11 x 9 ft (335 x 274 cm)
Inner area: 99 ft² (9.2 m²)
Inner area per person: 16.5 ft² (1.5 m²)
Peak height: 72 in (183 cm)
Packed size: 47.6 x 10.4 x 10 in (121 x 26 x 25 cm)
Bushnell 11 x 9 Instant Cabin Tent vs Core 6 vs Ozark Trail 6 Dark Rest
When choosing a tent, it's important to consider various options to find the one that best suits your needs. In this comparison, we will assess the Bushnell 11 x 9 Instant Cabin Tent, the Core 6, and the Ozark Trail 6 Dark Rest. Let's explore the key differences between these tents in terms of design, features, and price.
Design: The Bushnell 11 x 9 Instant Cabin Tent features a spacious cabin-style design with panoramic windows and an awning for added outdoor living space. The Core 6 also offers a cabin-style design but lacks an awning, while the Ozark Trail 6 Dark Rest is designed with a focus on providing a dark interior for enhanced sleep.
Features: The Bushnell tent stands out with its UV-protective Shield Series coating, multiple storage elements, e-cable port, and reflective features. The Core 6 offers a simpler set of features without the Shield Series coating or extensive storage options. On the other hand, the Ozark Trail 6 Dark Rest prioritizes a dark interior for improved sleep quality, but it lacks the awning and e-cable port.
Price: In terms of affordability, all three tents offer budget-friendly options. However, the Bushnell 11 x 9 Instant Cabin Tent stands out with its exceptional price, providing excellent value for its features. The Core 6 and the Ozark Trail 6 Dark Rest are also competitively priced but may differ slightly in cost.
| Tent Features | Bushnell 11 x 9 Instant Cabin Tent | Core 6 | Ozark Trail 6 Dark Rest |
| --- | --- | --- | --- |
| Design | Cabin-style with awning | Cabin-style | Dark Rest construction |
| Key Features | Shield Series coating, multiple storage elements, e-cable port, reflective features | Simpler feature set | Focus on dark interior |
| Price | Exceptional value | Competitive | Competitive |
Bushnell 11 x 9 Instant Cabin Tent vs Core 6 vs Ozark Trail 6 Dark Rest
Final Thoughts, Rating, Pros & Cons
Bushnell Shield Series 11′ x 9′ Instant Cabin Tent Review (6 Person)
Final Thoughts
My review of the Bushnell Shield Series 11′ x 9′ Instant Cabin Tent highlights its impressive design and user-friendly features. The tent is incredibly easy to set up and offers a range of practical elements that enhance the camping experience.While the lack of detailed information regarding its waterproof rating is disappointing, I would personally rate it highly. However, it's advisable to conduct some testing and sealing, if needed, before embarking on a camping trip. Considering its exceptional price and the overall positive experience it offers, I highly recommend the tent. It has earned its place on my list of top 6-person tents.
Pros
Affordable price.
Well-designed and pleasant.
Abundant storage elements.
UV protection.
Instant setup.
Cons
Heavy.
Long when packed.
Limited description.
Thank you for taking the time to read. If you have any questions or comments, please feel free to use the comment box below. I hope you have a wonderful day!